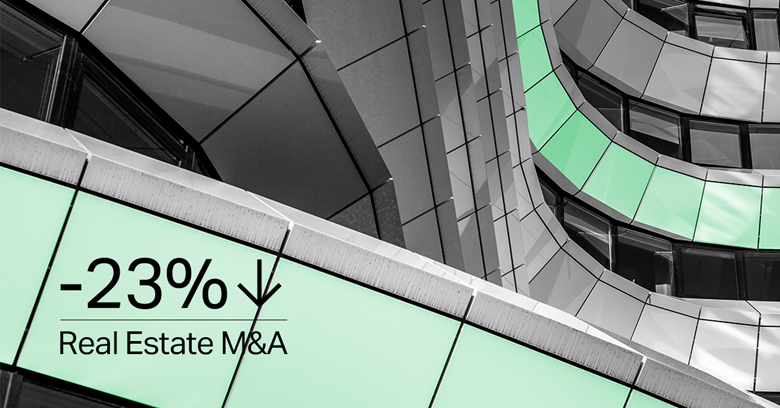 According to Ansarada's
Deal Indicators
, new real estate M&A deals commencing decreased by 23% QoQ globally, but were up 54% YoY. The dropoff in early 2022 could point to the oncoming sector slowdown driven by rising interest rates and inflation, but there is evidence that not all areas are being impacted equally.
In the US, commercial property transaction volumes plummeted in April 2022, affecting all property types, according to
S&P Global Intelligence
. Real estate sectors particularly impacted by the pandemic, such as hospitality, offices, and retail, saw a much-needed boost in 2021 but are still facing more challenges than other sectors. It's anticipated that these sectors will increasingly turn to portfolio diversification and consolidation to remain competitive.
Divestiture will also play a key role in diversifying real estate portfolios to offload non-core assets, offset risks and generate more value. In
Deloitte's 2022 M&A Trends Survey
, half of all real estate industry respondents said they were considering divestment in 2022.
Alternative asset classes attractive to investors
PE firms and investors are channeling significantly more investment into alternative assets to diversify their portfolios - so much so, that it may be time to stop referring to them as 'alternative'.
This includes technology-focused assets like data centers and mobile towers, which will be critical in supporting the digital infrastructure that was referred to earlier in the report. The highest demand was for properties focused on supporting 'last-mile needs of the burgeoning digital economy' (
Deloitte
).
Global trend: Student housing
Another area attracting significant attention from private equity firms and asset managers is the student and college housing industry. Addressing the global shortage of student housing, PE giants like Blackstone and Singaporean sovereign wealth fund GIC are pouring billions into the sector.
According to Pitchbook data
, PE firms have already committed $20.3 billion to student housing in 2022 - more than the previous 5 years combined.