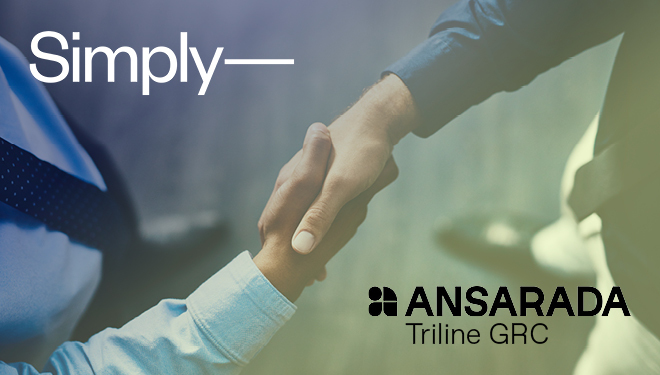 Simply Asset Finance (Simply) the forward-thinking and flexible asset finance business that provides UK SMEs with a better, faster, simpler service has appointed Ansarada GRC to provide the technology for compliance and operational risk management across the business.
Ansarada GRC's
Governance, Risk and Compliance solution
includes modules to support Simply with all regulatory and compliance obligations, including SMCR, third party management and overall risk management.
Commenting, Ylva Oertengren, Chief Operating Officer Simply Asset Finance said: From the day Simply Asset Finance was established we have been focused on employing the best people and couple them with industry leading technology so that we can help as many SMEs as possible. Ansarada's cutting edge technology will ensure that we can focus on delivering excellent service to our customers, safe in the knowledge that the important oversight and reporting activities are also taken care of with the help of Ansarada GRC.
Alan Sheahan, Head of Governance, said: Simply is fast growing and ambitious. With the Ansarada GRC solution, we have a technology-enabled and data driven compliance function that allows us to focus our efforts on doing the right thing. The transparency we get from the reporting capabilities allows us to drive higher quality in all aspects of compliance and add true value to customers and stakeholders.
Ian Wilson, Director of Sales, Ansarada GRC, added: "Ansarada GRC provides a unique UK financial services GRC solution, and we are delighted that Simply has selected us to embed and underpin improved governance efficiencies across their business. We look forward to supporting them roll-out and maximise the full scope of our solution functionality."
ENDS
For further information, please contact
Ansarada Triline GRC:
Paul Crawford
Business Development Director | GRC Software | UK
07442 330122
[email protected]
Simply Asset Finance:
Louise Dolan
Partner, Camarco
020 3757 4982 / 07446 870025
[email protected]
Sean Palmer
Associate Partner, Camarco
020 989 5713 / 07591 760844
[email protected]
About Simply
Simply provides finance to small and medium sized businesses in the UK to help them purchase equipment, free up working capital and invest in growth. It was founded in April 2017 by a team of industry specialists in response to the need for innovation and disruption in the asset finance sector. Simply prides itself on having implemented the most advanced technology in the sector to enhance its customer-facing proposition, and provide customers with a better, faster, simpler, more efficient service.
Simply has now recruited over 120 of the best people in the industry and attracted more than 3800 customers across a variety of sectors including manufacturing, construction, transport, and recycling. Simply is majority owned by a Cabot Square Capital fund. For more information:
www.simply.finance