Top 5 ways to collaborate in Ansarada
Collaboration on a project or transaction is a balancing act. Internal processes, external collaborators, and different tools all increase risk while reducing efficiency and productivity.
By ansaradaMon Jul 29 2019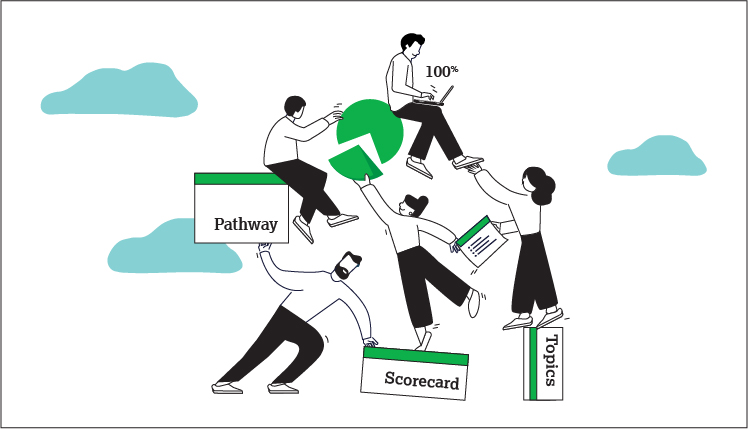 End collaboration chaos!

To achieve your outcome, you need clear objectives, alignment in strategy, and a clear understanding of the way forward, at both the team and individual level. How can you manage a group of collaborators small enough to guarantee the quality, but large enough to get the work done quickly?
Here are our top five internal collaboration tools, according to Joel White. Joel is a 10-year-plus Ansarada Business Development Director and has seen thousands of deals run through the platform firsthand.
#1: Pathways
Pathways instrument your key workflows and processes to get you started quickly and gathering higher-quality information faster.
What if you could assign tasks to a broader pool of people across departments to complete the work faster? And yet, maintain the confidence that everyone is on the same page and making progress?
Ansarada's platform strikes that balance and halves the time it takes to reach an outcome. Along each templatized Pathway, your team benefits from preloaded scorecards, educational topic guides, descriptions and requirements. All clearly explain what is needed, what it is, and why it's crucial to your outcome.
Pathways increase the likelihood of getting the right information, the first time. It eliminates significant back-and-forth between teams and produces a system of record that can be used over and over.
#2: Integrations
The best change in behavior? No change in behavior.
What if Greg is married to Dropbox (or Box, or Google Drive or OneDrive) and has failed to move the required documents into Ansarada?
With integrations, information is pulled in from disparate sources automatically and housed within the platform. It's visible to the broader team, synced and up-to-date, so you always see the latest version of the data.
Greg can link his documents to the places they need to be, without any extra steps. He continues working in his preferred method, but you always have the documentation you need. Greg's happy, you're happy.
#3: Automated tracking
How much time do you waste trying to track where progress is up to?
At every stage of every collaborative project, there will be questions around progress.
What are we missing from the Finance team?
Has the Board pack been verified yet?
Sarah is off sick today – what did she have left to complete that can be reassigned?
Ansarada's Pathways automate the tracking by area, the person responsible, verification, reviewers and overall progress towards the outcome. Each person's unique view contains their active to-do list, so you can see at a glance where you are, and what's left to do.
#4: Scorecards
Ansarada's platform gamifies collaboration to maintain momentum.
With a scorecard, you don't just have a clear picture of who is responsible for what, but you get unprecedented visibility into progress. Your score is a measure of the completeness and quality of information; a perfect score = total readiness for your outcome.
View your overall score as well as the breakdown of scores for individual topic areas to get a little friendly competition happening between departments.
Scores and progress bars tap into our natural human instincts for competition and achievement. In due diligence, this incentivizes teams to take action, creates urgency for them to improve their score, and keeps them coming back for more.
#5: Threaded commenting
Cut down on repeated conversations and preserve institutional knowledge.
Ansarada's scorecard platform is broken down by area, topic and requirements. Each topic houses relevant documents and a threaded comment section.
Threaded commenting differs from collaborating inside a document – say, in a Google sheet. With threaded commenting, discussion survives the final version of the document and serves as a record for the next time the document is updated or produced anew.
This preserves learnings within an organization and future-proofs institutional knowledge against personnel changes – particularly if the process is repeated regularly. Plus, it saves time and repeated querying of resolved discussions when multiple stakeholders are involved in the approval.
This is so effective many clients now use scorecards to collaborate even when producing a single large document that requires many contributors. The separate sections are broken out into topics and then rolled up into one document at process end. Each new team member coming into the project draws on the guides & comments of the past to aid learning and speed collaboration.
So, what now?
Effective collaboration is critical to get to your next major business outcome. Book a demo to find out how we can make it a seamless process.