Ansarada ranks among top ten Best Workplaces in Vietnam
Securing an 8th place ranking in Great Place To Work Vietnam's 2023 list, Ansarada's people-centric and purpose-driven culture has been recognized. Leaders and employees alike endorse the positive environment, affirming the company's commitment to fostering connections, collaboration, and growth. This honor aligns with Ansarada's belief in prioritizing employee well-being, contributing to their success and reinforcing Vietnam's attractiveness to global tech talent.
By AnsaradaThu May 18 2023Culture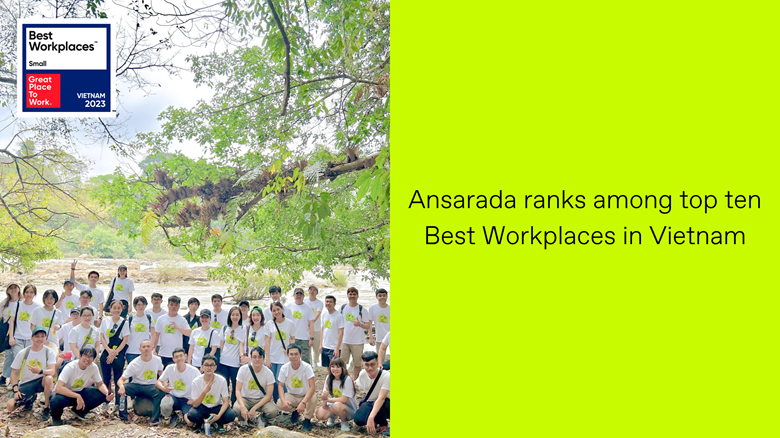 It's with great pride that Ansarada announces its 8th place ranking in the small company category for Vietnam's Best Workplaces of 2023, as declared by Great Place To Work Vietnam. This prestigious recognition validates Ansarada's unwavering commitment towards establishing a workplace that prioritizes its people and instils a purpose-driven culture among its employees.
Great Place To Work defines an exemplary workplace as one where employees place trust in their leaders, take pride in their tasks, and foster a camaraderie with their coworkers. The theme for 2023 Vietnam Best Workplaces is "Connect, Collaborate, Cultivate", underscoring the significance of fostering connections, mutual cooperation for shared objectives, and promoting growth and development. It motivates individuals and organizations to emphasize communication, teamwork, and community-building to nurture a positive and inclusive culture, leading to enhanced employee engagement and improved customer satisfaction and productivity.
"Heidi Rossi, our Chief People Officer at Ansarada, comments, "Our team understands and believes in what Ansarada aims to achieve. This belief propels us to work together across departments, align our goals, achieve our objectives, and strive for excellence. We hold steadfast to our values, inspiring and holding each other responsible to reach our maximum potential through our beneficial employee practices, principles, and programs. Our people are not only the source but also the beneficiaries of the unique spark that makes Ansarada a remarkable place to work."
The Best Workplaces badge, a universally recognized honor, is conferred upon companies that exhibit a high-trust, high-performance workplace culture. This is assessed via the Trust Index© survey that evaluates the three key relationships influencing an employee's workplace experience - relationships with management, colleagues, and their job. The Trust Index© score denotes the percentage of employees who consider their company to be an excellent workplace and provides an insight into their actual workplace experience.
"We're not just aiming for happy employees at work; we aspire for satisfied 'Ansaradans' at work," says Paul Nguyen, VP Engineering at Ansarada. "We believe in the power of our bold, inclusive, and diverse Ansarada culture to instil trust. Our commitment to our people's growth into high-performing teams is unwavering. We don't quantify our workforce; we measure 'heartcount'. I'm confident that any interaction with an Ansaradan will convey our pride, optimism, and unique Ansarada culture."
Sharing her personal experience, Linh Pham, Finance Administrator, remarks, "Being part of a Great Place to Work for the first time has provided me with an unparalleled workplace experience. I never thought work could be this enjoyable. My colleagues, who are always there to support and care for me, are a delight to work with. I'm proud to be a part of a Great Place To Work and thrilled to spread this positivity to ensure my workplace remains a fulfilling place to work for all."
At Ansarada, we affirm that emphasizing employee well-being and fostering a strong workplace culture has been a significant contributor to our success in organizational growth and employee retention. We're honoured to be part of this community of committed organizations and are excited to aid in transforming Vietnam into a premier work destination for global tech talent.
Discover What's Next
Join us to grow fearlessly in your career, help businesses be a force for good and create what's next to drive smarter, more responsible businesses globally. Break new ground in your career with a team committed to empowering employees and creating a great workplace culture.
Join Team Ansarada
About Ansarada
We're a SaaS platform that companies, advisors and governments rely on for securely managing critical information, workflow and collaboration in high-stakes processes like deals, risk, compliance, board governance and procurement. We're the software relied upon by business pros in over 180 countries. We bring order to organisational chaos to increase business value. Our mission is to raise and protect every company's potential. Learn more about us here.
About Great Place To Work
Great Place To Work is the global authority on workplace culture, providing research and data to help every place become a great place to work for all. Their proprietary platform and For All Model help companies evaluate every employee's experience, with exemplary workplaces becoming Great Place To Work Certified or receiving recognition on a coveted Best Workplaces List.
We are proud to be part of the Great Place To Work community and to have received this recognition. As we continue to grow and evolve, we remain committed to creating a workplace where everyone feels valued, supported, and empowered to reach their full potential.
About Great Place To Work Certification
Great Place To Work Certification is the most definitive "employer-of-choice" recognition that companies aspire to achieve. It is the only recognition based entirely on what employees report about their workplace experience - specifically, how consistently they experience a high-trust workplace. Great Place To Work Certification is recognised worldwide by employees and employers and is the global benchmark for identifying and recognising outstanding employee experience. Every year, over 10,000 companies across 97 countries apply for Great Place To Work certification.