Celebrating South Africa's M&A champions: 20th Annual Ansarada DealMakers Awards go virtual
While the physical gala awards event was unable to take place this year, the virtual Ansarada Dealmakers Annual Awards in Johannesburg was no less of a celebration.
By AnsaradaThu Mar 04 2021Due diligence and dealmaking, Industry news and trends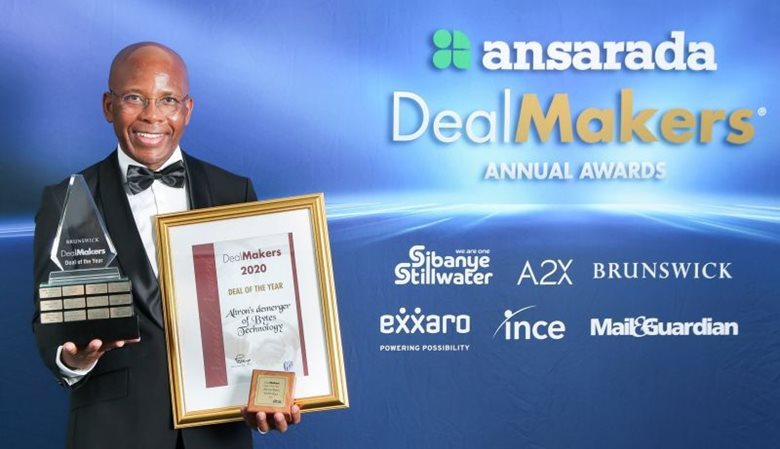 A huge thank you and congratulations to all of the Ansarada Dealmakers Annual Award winners, who were celebrated for their outstanding achievements in a particularly difficult year.
This year's recognition included a new gold medal award, the Business Rescue Transaction of the Year, which was received by John Evans of RS Advisors for his work in the successful restructure of Phumelela Gaming and Leisure.
Winner of the prestigious Dealmaker of the Year Award this year was Altron, for its demerger of Bytes Technology. Mteto Nyati, Group Chief Executive, took home the trophy for the winning deal, which saw Bytes UK listing in December with a market capitalisation of R16,3 billion.
See the full list of winners here.
Ansarada has proudly sponsored the Ansarada Dealmakers Annual Awards in South Africa for the past eight years. We strongly believe that dealmakers underpin the nation's future growth, and we exist to help every company and their advisors to be better prepared; better positioned for better performance to enable healthier and safer economic growth, and value creation that positively impacts the lives of billions of people every day.
We've helped over 400,000 dealmakers reach their critical outcomes on the Ansarada Platform and we'd love to do the same for you.