Deal Indicators data reveals M&A is a global priority for telecoms businesses
Fueled by the necessity of remote workplaces, the telecommunication industry is facing unprecedented growth and transformation. And with that growth and transformation comes fast rising competition.
By AnsaradaTue Aug 23 2022Mergers and acquisitions, Industry news and trends, Innovation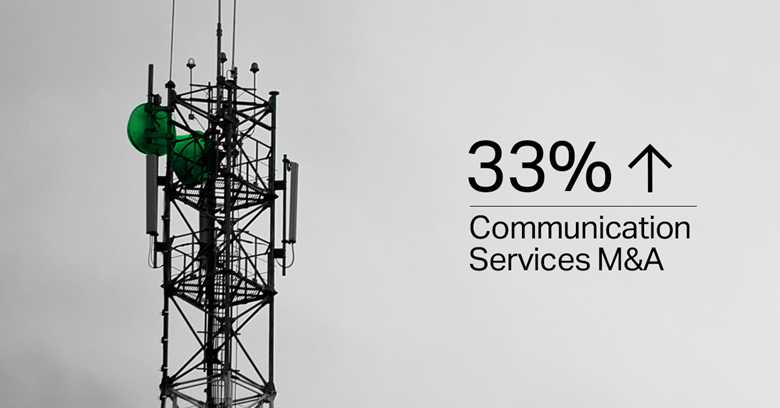 Deal Indicators
show that many telecom companies around the world are turning to mergers and acquisitions (M&A) in a bid to evolve their businesses, grasp technology innovations and rise above their competitive threats.
The history of M&A in the digital media and telecommunications industry
The
1990s
was a time of upheaval in telecommunications, with a wave of M&A deals dramatically changing the industry's global structure. Across Europe and the US, telecoms were consolidated into pools of providers.
In the early 2000s
, the bulk of deals continued to take place in Europe and North America and emerging markets represented less than a quarter of deals (in dollar terms). But
around 2007-2010
, a shift occurred. Emerging telecom market players pursued deals more aggressively, accounting for nearly half of all deals in value terms. The focus of the deals also changed, with
over 80%
focused on core services, and the rest focused on infrastructure, connectivity providers, multimedia and financial services.
In the last decade, we've seen the huge, cumbersome integrated telco give way to more disaggregated, narrowly-focused business models. These business models often focus heavily on adjacent services – or combining digital media services – and we expect to see this continue in the future.

Current threats to industry transformation

1. Resource-heavy large operators
Today's telecommunications landscape still sees large-scale players holding a lot of resources, including both global and local operators. These resources give large telecoms the potential to keep acquiring services and entities to increase their capital productivity. The smaller or country-wide organizations with narrower business models may struggle under the larger push for market share.

2. Cybersecurity threats
In the wider industry, there continue to be
new wave security threats
, such as cyber-attacks. Because telecoms operate critical communication infrastructure and store sensitive customer data, any attack can have far-reaching consequences for both the customer and the company. For any telecommunications company, these security issues must be addressed in order for them to compete in the current market.

3. Lack of accessible funding
Another challenge is access to growth capital. Market valuations have come down considerably, significantly impacting on the amount of money that startups have been able to raise. In fact, the median value raised by tech startups in Series A funding rounds declined by 14% QoQ in the January-March quarter of this year (
Carta
).
The lack of accessible funding means we can expect to see more early-stage startups taking the exit route. And with the IPO market on pause, large-scale private companies are opting to acquire these startups.
One example is
Meta's recent acquisition of Take App
– a Singaporean startup founded by a former Facebook engineer – that bridges the digital gap for business owners in Southeast Asia by helping them create simple websites and leverage the conversational power of WhatsApp. Another is Google's acquisition of Bay Area startup,
Raxium
, who creates microLED display technologies for wearables and AR and VR headsets. Both demonstrate the appetite that large players have for strategic partnerships with startups.
What's currently driving telecom, media and technology (TMT) M&A?
Despite a chaotic market, growing competition and even a spreading definition of what the core services of telecoms are, the TMT sector continues to grow. Our
Deal Indicators
show a 33% QoQ increase in new Communication Services M&A deals commencing, and a 35% QoQ increase in Tech M&A deals. New software and services transactions of all types grew by 26% over the quarter.
Research shows that most telcos are moving aggressively into non-core areas of services. This includes purchasing digital media, IT services and software companies, which allows them to create more growth options. This growth will allow them to compete against the big players like Google, Apple and global IT entities who are constantly innovating and taking over space that was traditionally occupied by old-school telecoms. For example, streaming services are already outcompeting national television, and smartphones are more powerful than regional cellular services. M&A will play a vital part in acquiring those non-core services.
Recent studies confirm that digital transformation and adoption of new technologies remain a key priority for dealmakers. In fact, over a third of deal value in the first half of 2022 was attributed to technology, media and telecommunications deals, and more than a quarter of all deal volume (
PwC
).

There's plenty of digital infrastructure to be built
This transition to digital – spurred on by the pandemic – will require significant digital infrastructure to support it. We can expect to continue to see strong technology demand globally, with increased M&A activity in areas like 5G and IoT, fiber networks, WiFi towers and data centers.
These types of information facilities are critical to rolling out new technologies, managing growing data requirements and keeping communities connected. And they are a vital part of current and emerging telecoms ability to innovate and compete.
The increasing reliance on digital services and the rapid growth of the cloud computing industry has led to the demand for more data center capacity. According to
Synergy Research
, 87 data center M&A deals were completed In the first half of 2022. With more set to close this year, the boom shows no signs of slowing.
Access real-time global M&A insights
Ansarada's Deal Indicators Report draws on anonymous, aggregated data across active and ongoing M&A deals (and 400,000 data points) on the Ansarada platform to surface real-time M&A insights into the TMT sector and many others.
Download the Deal Indicators report