Ansarada launches world's first Material Information Platform
The arrival of the world's first Material Information by Ansarada heralds a new era for businesses & dealmakers who are ready to embrace AI-powered insights.
By ansaradaTue Oct 17 2017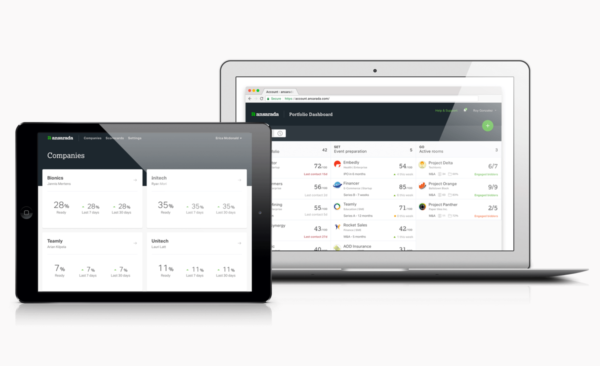 AI-powered platform to exponentially improve efficiency, clarity, and productivity of managing material events – from M&A through Real Estate to Tenders

Returns hundreds of diligence hours and eliminates uncertainty through AI-powered data management and reporting

Upends legacy virtual data room industry, moving beyond events and opaque pricing to SaaS platform, simple, and transparent pricing, and open interfaces

Innovation in information capture enables deal makers to assess readiness in real-time and revolutionize diligence

Integrates with cloud platforms to capture, secure, and automate reporting on millions of pages of information

Sydney, 17 October 2017 – Ansarada, the global leader in managing material events, diligence and transactions, today announced the launch of Ansarada's Material Information Platform (MIP). Material Information Platform is a new generation of workflow and information management technology that will transform the efficiency and economics of legacy data rooms with an always-on, open platform for managing a business's most important information and events.
"Having supported more than 20,000 deals it was clear to us that businesses being ready for their most important event, after the event, was the wrong way", said Sam Riley, CEO, Ansarada. "The right way was a platform that allowed advisors and businesses to secure, prepare, and share massive volumes of material information with AI-powered automation and insights. This will alter the economics and efficiency of deal making, diligence and integration forever. The majority of deals fail due to poor diligence practices at huge cost to advisors and businesses – we provide the opportunity to end that today."
With more than 10,000 pages of information loaded into Ansarada's material event spaces daily, automation and AI can derive insights benefiting any company by providing simple, scalable, secure practices for managing a business's most material events.
Rather than scramble to pull together material information like contracts, shareholders agreements, and financial statements when a transaction opportunity presents itself, MIP provides businesses with a single platform to curate and optimise critical documentation, collaborate with advisors, and benchmark their readiness score for a deal before kicking off the transaction.
Until now, advisors – who execute material transactions between businesses – have had to make recommendations to clients based on partial oversight of material information, informal verbal briefings with clients, and intuition. MIP revolutionises client readiness and due diligence by allowing advisors to benchmark, track, and improve their client's business before a transaction commences.
How the Material Information Platform works:
Scorecards are used to assess and benchmark how ready a business is to undertake a material event, uncovering risks and opportunities within the business. Tools and reporting are provided to ensure momentum is maintained and progress towards preparedness is tracked and monitored.

Industry-leading content and guides are available to assist businesses as they improve their readiness for a deal or material event, ensuring company leadership have a clear path to success and the preparation burden is eased on advisors.

Business leaders can assign tasks and responsibilities to their team, whilst securely collaborating with advisors to verify material information and deal readiness. Dashboards provide total oversight to ensure opportunity is maximized.

The platform will soon connect to common cloud-based business applications such as DropBox, Google and Xero, enabling the most recent material information to always be on hand. It integrates business silos and disparate information storage systems into one place to prepare for a transaction.

Simple SaaS-based pricing provides advisors and businesses with predictable pricing before, during, and after the deal.

Information contained within a MIP can be moved to a material event space (next generation data room) with a single click, accelerating time to transaction execution and providing AI-powered reporting on probable deal outcomes.
The launch of the Material Information Platform follows a raft of innovations from Ansarada over the past six months. These include the world's first AI deal assistant, AIDA and AI-powered reporting that predicts deal outcomes.
Comments on the news:
"AI will save hundreds of hours in diligence and thousands of hours across a single transaction. Critically, it removes the opacity in every facet of the transaction – from readiness, likely outcome through billing. AI is ushering in a new age for diligence and deal making" said Ansarada Chief Product Officer, Matthew Brown.

"We use dozens of material event spaces for our most important activities – from capital raising through audit, real estate transactions and board reporting. Material event spaces and now the platform save us hundreds of thousands of dollars of cost and drive efficiency across all our advisors. It's impossible for a modern business not to make the shift to Material Information Platforms", said Rachel Riley, Chief Financial Officer, Ansarada.

"Lack of preparedness is costing businesses and advisors time and money", said Oksana Goncharova, MD of MIP at Ansarada, "We are ending two decades of advisors not knowing if clients are ready for their most important event, basing decisions on hearsay, and squandering hundreds of hours manually assembling material information."
Availability:
MIP is available now and can be purchased directly through Ansarada.
Media Background:
Deals, from M&A to IPOs and capital raises, have a huge impact on both the local and global economy, driving innovation and progress, reducing costs, and lowering prices for consumers.
The global deal landscape is booming, with the value of transactions in 2016 representing US$4.011 trillion. Yet deals are either failing entirely or failing to deliver the desired outcome for those involved.
KPMG's June 2017 report on Australia's deal landscape revealed 57 per cent of deals are failing due to management issues, while operational and financial issues uncovered during due diligence account for 47 per cent and 46 per cent of deal failures, respectively. This is causing a huge strain on the resources within companies preparing for these failed deals, as well an significant investment of time and energy from the advisors working alongside.
At the same time, businesses recognise that effective due diligence is key to success, with 54 per cent of those surveyed by KPMG saying it is the most important factor in realising deal value. The results of this report show companies are aware of what they need to improve, but do not currently have the tools to solve the most common problems or ensure they are prepared for a material business event.