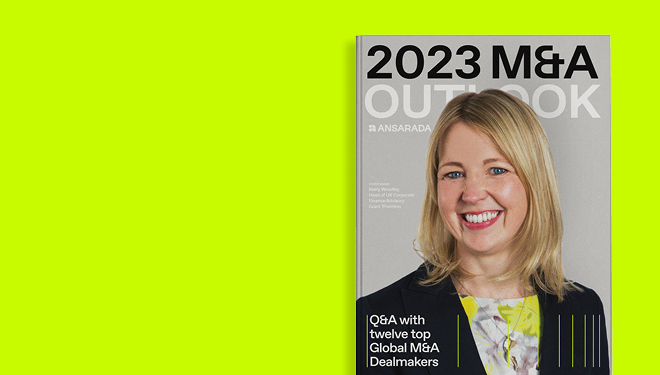 Ansarada has partnered with Mergermarket to launch a new report,
2023 M&A Outlook: Q&A with twelve top Global M&A Dealmakers
.
We interviewed twelve leading dealmakers across regions and industries to get their predictions for the year ahead, as well as important trends to watch.
Overall, 2022 has seen total M&A figures fall short of the heights achieved in 2021, but this was always to be expected. After a strikingly hectic year for global M&A, activity was bound to cool down.
Persistent inflation, slowing growth and rising geopolitical tension were already at the forefront of dealmakers' minds this time last year. Russia's invasion of the Ukraine at the start of this year, and the subsequent dislocation this caused in energy prices, along with a continuation of strict COVID measures in China have continued to exert challenges for the global macroeconomic picture.
To curb inflation, central banks the world over have hiked up interest rates – meaning that the era of abundant, cheap deal financing has come to an end.
Yet, the dealmakers we spoke to were far from pessimistic.

Opportunities to be found in the challenging macroenvironment
While there is a consensus that the deal environment is more challenging, our experts were clear that there are tremendous opportunities to explore in the current climate.
Although technology firms have seen falling valuations, the digitization trend is as relevant today as it has ever been. And although in the short term the disruption in energy supply in Europe has led some governments to re-embrace carbon-intensive energy sources, long-term the solution to energy security lies in renewables. Climate change and rising ESG regulations will only prompt further investment into green energy.
As businesses assess the current economic landscape, they may shift their priorities from growth-at-any-cost to a more cautious approach. M&A practitioners will also adapt, looking to creative deal structures to bridge any gaps in seller and buyer expectations, and using equity, rather than debt, to finance deals.
Get the insights from the experts
Amid this backdrop, we turn to the experts for their predictions of global dealmaking in the year ahead. Download 2023 M&A Outlook: Q&A with the twelve top Global M&A Dealmakers to see what they had to say.
Download the report