Gain the edge as an insolvency professional
Execute with probity, prove compliance, and ready your client with Ansarada

A single system of record
Unify information and score its quality. Manage Q&A and build a record of activity and responses

Collaborate seamlessly

Probity & compliance proven
Reduce risk through controls on a single system of record that's enforceable, managed, and reports in real-time

Get ready ahead of the event
Purpose-built Pathways and scorecards establish readiness. Engage clients earlier for optimal outcomes

Complete certainty
Be confident information is optimized and the path forward is clear. Deliver higher quality advice and set your firm's expertise apart
Virgin Australia turnaround case study Q&A
Sam Riley, CEO, Ansarada Vaughan Strawbridge, Senior Managing Director, Corporate Finance & Restructuring, FTI Consulting Vaughan discusses his experience in navigating a cross-border deal during the pandemic. They highlight the challenges of executing a deal while working remotely, including due diligence, and achieving regulatory outcomes. The turnaround deal was powered on Ansarada.
Enhance & protect your reputation
Use and customize workflows to prepare clients, run outcomes, and realize opportunities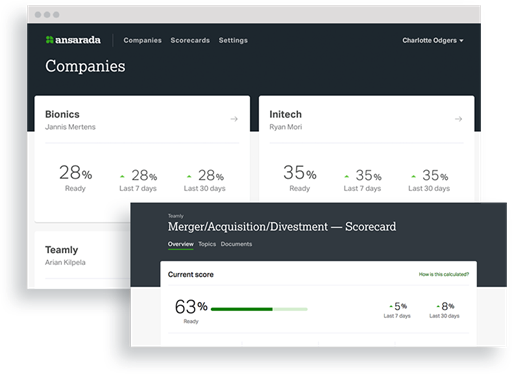 Demonstrate your expertise, deliver outcomes
Use the pre-built workflows to quickly view your critical information. Integrate existing systems of record into a singular collaboration space for visibility across every area of your business. Highlight risks and gaps upfront to see where the biggest opportunities for improvement lie.