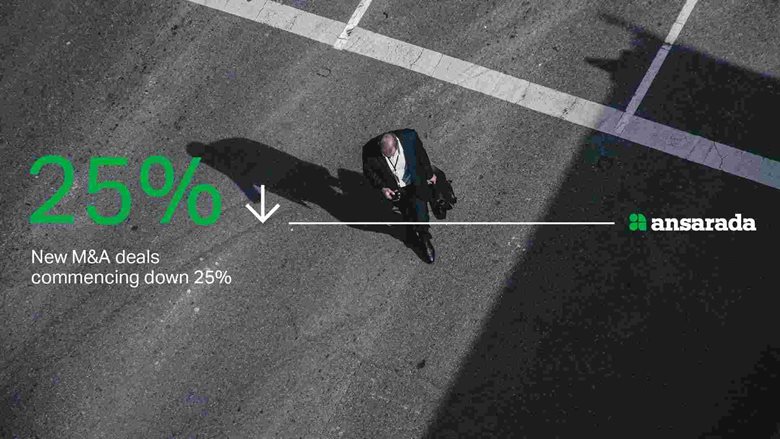 Overall, M&A activity in FY20 was down 22% compared to FY19. This drop should come as no surprise, as the crisis saw many opting to put their deals on ice amid uncertainty.
Our numbers do, however, show a 14% increase in targeted transactions this quarter, likely an indication of larger companies starting to swoop in to buy out smaller, possibly distressed targets.
According to Pitcher Partners'
Dealmakers Mid-Market M&A in Australia
, access to finance is viewed as the main barrier by 47% of dealmakers who are not currently considering an M&A deal.
Their findings show that 78% of dealmakers have postponed or cancelled investments due to COVID-19 as the sourcing and vetting of potential investments has been limited by travel restrictions and ongoing uncertainty.
"Many of our clients have understandably postponed a sale of their business until the economy improves and buyer confidence returns. Market conditions will give rise to opportunistic purchases, and to merger evaluations, as industry participants seek synergies and scale economies in tougher conditions," said Keith Selikman, Director at KSA Corporate Advisors.
While confidence is clearly shaken, there remains a high level of optimism in a resurgence of M&A activity.
"There is an expectation that the uncertainty created by COVID-19 will be a brief stumbling block and most dealmakers will consider returning to the market within the next 12 months, depending on how the pandemic continues to play out,"
said Michael Sonego
, Corporate Finance Partner at Pitcher Partners.
Their report indicates 70% of dealmakers are hopeful Australia will recover quickly and plan to return to the market within 12 months. 90% of respondents believe this activity will occur in the technology, media and telecommunications space, followed by pharmaceutical at 75% and industrial and consumer at 63% (
Pitcher Partners
).
M&A remains essential for economic growth
As divestitures heat up and assets become available, businesses need to be prepared to act, as the window for maximizing value could be short. Evidence from the global financial crisis (GFC) 'shows that companies that made significant acquisitions during an economic downturn outperform those that did not' (
Harvard Business Review
).
"Transformation through transaction is now an established chapter in the CEO playbook,"
writes EY
. "Acquisitions can be a powerful means to reshape portfolios and accelerate growth."
See what's ahead for M&A
Learn more about the future of M&A in our Indicators report. Download it here.
Download the report