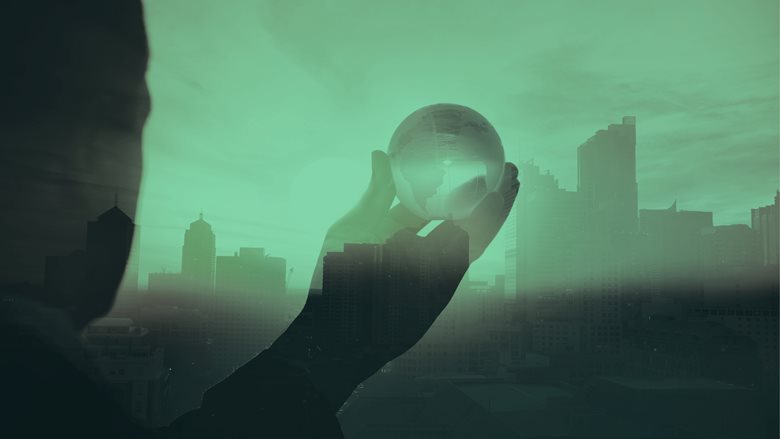 Even before COVID came in to shake things up, business models were being redefined and evolving alongside technological transformation.
Disruption and transformation have become a routine part of everyday business life. New companies launch and fail on a daily basis. However, it's fair to say that the global pandemic caught many off guard.
Desperation can be a powerful force; some of the most successful tech companies of the last decade were
born out of the 2008 financial crisis
, including household names like Uber, Slack and Whatsapp.
"Innovation can come from 1 of 3 places: Inspiration, frustration and desperation," said Ansarada CEO Sam Riley. "We've seen desperation drive innovation through the roof with COVID, but how can we as CEOs create an environment where risk can be reduced and growth achieved via inspiration instead?"
To create such an environment and be prepared for disruption, business leaders need to be ready – including, as much as possible, for the uncertain and the unforeseeable.
That readiness comes from establishing a structured and digitized blueprint to follow. And within that framework, it comes from knowing and leveraging all your critical information - from documents and data, to the people who look after them.
Successful information governance for an organization will:
Establish a framework to follow, with a clear picture of what best practice looks like

Maximize the value of data while mitigating the risks

Break down silos and reduce the duplication and fragmentation of information

Support critical business outcomes and readiness for material events

Ultimately, the key to eliminating risk is governing your information to a degree that you are always placed to act quickly and respond to the changing market.
Today, full visibility and accountability across all areas of business are paramount to both performance and compliance; the risks of not having them are too great to overlook. But as data proliferates, the strategy and tools used to manage and govern information must support an increasingly rigorous standard.
Eliminating material risk is a key priority for both the CEO and Board – so how can they get the confidence that they are in control of their information?
Treat every day like it's deal day
Since 2005, we've accumulated more than a decade's experience on over 23,000+ critical business transactions and learned -
Businesses were in their best shape at the end of a deal, BUT;
Preparing for and executing a deal was long, hard, stressful and expensive.
Businesses needed to be ready much earlier to reduce risk and seize opportunity.
The process needed to be significantly simpler and cheaper.
This learning may have started out with M&A, but this premise extends to every business, and every possible outcome. Maximizing your company for a deal is no different to maximizing company strategy.
"What is required for a deal is the same for executing any company strategy. It all comes down to accountability, efficiency, and having the data available for decision making," said Piet Mouton, CEO of PSG Group.
Due diligence is the most intense risk and opportunity assessment a company will go through, with the vast majority of M&A deals failing - between 70-90% of them, according to a recent
Harvard Business Review report
. If gaps or errors are found during due diligence, it costs time and money to fix them. In fact, the cost of lack of readiness can be measured in billions of dollars in time lost, business failures and expense of manual preparation.
"If you want to know what you need to be doing to make your business run well, it's put it in a place where it's sellable. If your business is in such a condition that you could sell it at any time, you've done everything right," said Johannes Warther, Senior Consultant at Apenberg & Partner in Hamburg. "And you'd probably not want to sell it, because it goes right! But should you ever want to, or need to, or have to, you can."
Get a governance framework in place
Modern governance starts with a close look at the critical information that drives a business, including assets, contracts, customers, financials, IT, legal, strategy… all of it.
Establishing this structure early and digitising this data is a crucial advantage for CEOs and Boards. It's the difference between having to draw your own picture, rather than simply colouring within the lines.
"Executives should focus on defining and delivering strategy. To have a platform for overall information governance contributes to strategy being translated into reality," said Mouton.
Following a structured template is as much about people as it is information. Getting your house in order and keeping documentation visible and organised is important – but it's also about clarity of ownership. Accountabilities need to be outlined, with the right people, in the right roles, doing the right thing.
Maximize the value of your data
With all your information digitised, accessible and visible, you can extract immense value from it. Moore's Law states that anything digitised will offer twice the performance and capacity every eighteen months.
Within a centralized platform, Boards and the C-suite have unparalleled access to information and insights that will drive their strategies.
"Ultimately, having everything you need for both the executives and the board in one platform makes sense. The less effort it is to provide, collate and structure the right information to executives and the board, the better. It means that the management team is not wasting time on non-value adding tasks, which in turn means they can spend more time on executing strategy," said Mouton.
Advice from Ansarada's CEO
"Focus on your tech infrastructure and ability to analyze data. Lay the groundwork with a governance framework for your material information and be ready to pursue your most important outcomes when opportunity arises," said Riley. "Don't wait for a senate enquiry or Royal Commission to drive you to desperation before you act."
"Leading businesses have already made the shift from reactive to ready. Smart, integrated, ready companies will have soon eliminated most of the risk that plagues them with legacy, disparate systems."
CEOs get free access
Ansarada is a platform for superior information governance, so that CEOs and the Board can get confidence and control. Get started for free today.
Get started for free