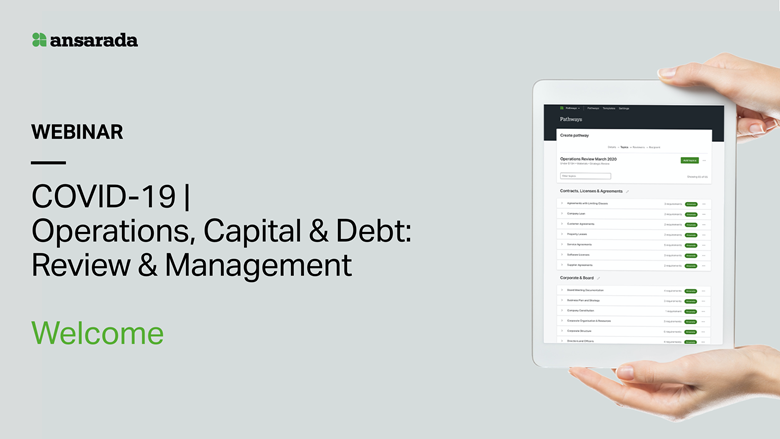 Everyone is looking for efficiency and reducing costs to get a good outcome. How do you get in a state of readiness?
In this webinar, Joel Gibbs, Head of Sales (APAC) and Mitch Cain, Customer Success Manager discuss the need for companies to undergo urgent review of their operations, capital and debt in order to inform their next steps.
Ansarada CEO Sam Riley joins in to share his experience and the criticality of the daily-changing situation, and discuss how our Pathway can help CEOs of companies and advisors get more certainty within the current environment.
The team walks you through the key features of our new COVID-19: Debt & Capital: Review and Management Pathway and shows you how to use it to quickly assess your current financial position and guide your future strategy.
Upcoming webinars
We listened to your feedback on what you would like to see next and will be hosting an additional three webinars over the coming weeks.
1.
Capital raising (Debt/equity) Webinar:
hosted by CEO Sam Riley on Wednesday 15th April at 11:00am - 11:45am.
Register here
2. Financial Survival Webinar: hosted by General Counsel Natasha Davidson and restructuring expert Rob Brauer of McGrathNicol on Tuesday 21st April at 1:00pm - 1:45pm. Register here

3. Financials from a CFO's point of view: hosted by CFO Rachel Riley on Thursday 23rd April at 11:00am - 11:45am. Register here

Get started today
Start your free trial of the COVID-19 Debt & Capital: Review and Management Pathway today with a no obligation, 14 day free trial.
Start my free trial