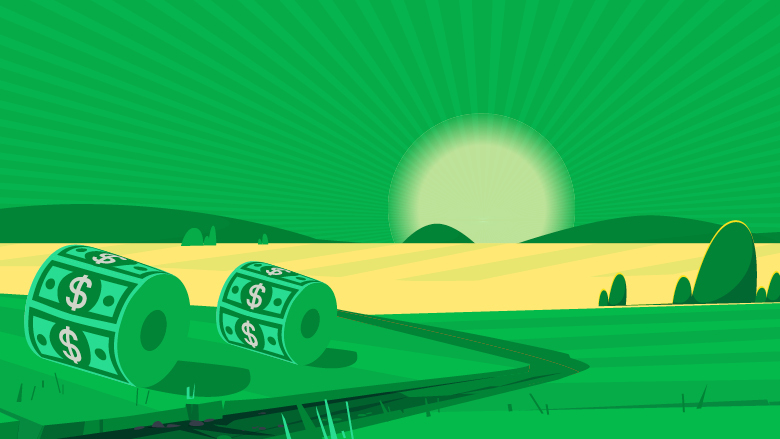 It's the most wonderful time of the year…
Dealmakers are rounding third and heading for home, capping off what was one of the busiest years for M&A ever.

But even if the M&A masters up and down Wall Street hung up their deal sleds for the rest of the year, they'd still be sitting pretty.

It turns out that the Wall Street gods are looking down kindly on M&A bankers this year. As of the last week of October, global M&A has already smashed its previous record, eclipsing $4.1 trillion. And the market is well on its way to its first $5 trillion year EVER.

Consumer, financial and TMT deals have led the way. Telecom, media and tech deals have already surpassed $1 trillion.

Through the first three quarters of the year, we saw some massive deals, like…
AT&T's media business merging with Discovery
The Kansas City Southern deal that has had more drama than an episode of 'Succession'
Square's deal for Afterpay
And, of course, a few near misses, like PayPal's pass on Pinterest.

This all comes despite a sh*storm of epic proportions, that, in most markets, would have companies sitting on their hands: the pandemic, increased US and European regulation, and a volatile global economy to name a few.
So, what's driving the surge?
Well...
Straight cash: The only thing easier to come by than cheap money in financial markets is an overhyped crypto coin (sup, Squid Game Coin). Interest rates have been near zero for almost two years, which means cash to finance big f*cking deals is easy to come by. And with talk of interest rates rising, management is looking to take advantage.
SPACs: Sure, the SPAC frenzy has slowed down. The phenomenon which took hold last year saw countless companies backed by everyone from financiers to D-list celebs raise boatloads of cash. Cash that they need to deploy. This setup an arms race for companies to take public via the backdoor approach. As of July of this year, there were 359 SPAC filings with $95 billion raised.
Psychology: Stay with me for a second. Retail investors weren't the only ones feeling bullish. Boards and management seemed to be enchanted by the idea of making deals. And they've got investors to thank. You see, typically a merger announcement correlates with a sell off. But not during the pandemic. Over the past 3 quarters, shares of companies that scooped up another have outperformed the broader market by more than 2%.
Where do we go from here?
Bust out the Dow 36,000 M&A $5 trillion hats.

While SPAC deals have slowed dramatically following the SEC's stern warning to every huckster with a special purpose acquisition pipe dream, there are still some major deals in the works that could pad the league tables before EOY.

The elephant in the room is, by far, the potential $54 billion deal for GlaxoSmithKline's consumer arm. And the barbarians are at the gate. The likes of CVC and KKR are lining up for a shot at what could be the largest buyout ever.

2021 will certainly be a record breaking year, but M&A pros are already looking ahead to 2022. The overwhelming sentiment is that the good times will continue as the economy continues to rebound and the bear market continues.

Of course, that doesn't mean there aren't headwinds that could derail the momentum.

Check out Ansarada's 2022 M&A Outlook: Q&A with the Top Global Dealmakers for a deep dive on what the experts predict for the year ahead.
We're big fans of Investment Bankers
Our mission is to make your life easier by building technology to reduce risk, boost efficiency and improve decision making so you can rest easy.

Since 2005, modern dealmakers have trusted Ansarada's Virtual Data Room on over 24,000 transactions and $1 trillion worth of deals, including M&A, divestments, capital raising, IPOs, and restructures.
With Ansarada's new online quoting process, it takes 3 clicks and approximately 15 seconds to magically open your data room.