Growing fearlessly as a force for good: Ansarada Chicago partners with the Special Olympics
Community engagement and giving back are essential values at Ansarada. Ansarada empowers employees to volunteer (up to 4 days each year) and give back to our communities, helping our employees be a force for good and growth. Volunteering in the workplace fosters employee engagement, promotes wellbeing and team building, facilitates skill development, and most importantly, creates a positive impact on society.
By AnsaradaThu May 25 2023Culture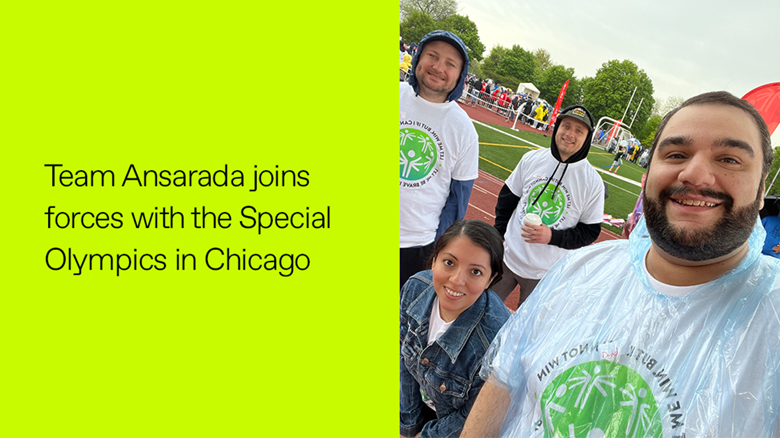 On Friday, May 12th, our Chicago Ansaradans exemplified these values by participating in the Special Olympics track & field event. This inspiring event brought together over 2,000 athletes from the greater Chicago area, providing them with competitive opportunities to enhance their lives. Led by Lane, one of Ansarada's Community Ambassadors, they spent a memorable day volunteering, witnessing the athletes' dreams unfold and experiencing the profound impact of their efforts.
Unleashing Joy and Inspiring Determination:
As these Ansaradans stepped into their roles, ensuring athlete organization and order at the track & field event, they were met with the radiant glow of excitement on the athletes' faces. Months and years of training culminated in this significant event, and they were privileged to be a part of it. No amount of financial compensation could compare to the heartfelt joy they experienced in seeing the athletes' dreams fulfilled.
Lane, an Ansarada Community Ambassador and the driving force behind this volunteering effort, shared his personal connection to the cause. Having volunteered with the Special Olympics in the past and with a family member who has an intellectual disability, Lane is deeply passionate about creating a world free from judgment and full of equal opportunities for everyone. He aspires for his loved ones, and others like them, to know that they are just as capable of achieving their dreams as anyone else.
Team Reflections and Inspirational Moments:
Jenn, one of our Finance team members, expressed her gratitude for Lane's initiative in organizing this community service day. Although unfamiliar with the Special Olympics, Jenn was honored to contribute to making the event enjoyable for disabled adults and children. Witnessing the joy in others was a truly rewarding experience for her, and the courage and tenacity displayed by the participating athletes left a lasting impact. Jenn eagerly anticipates future opportunities to volunteer with the Special Olympics, eagerly awaiting the summer season.
David, a Client Services Executive, described the Special Olympics as an incredibly rewarding experience filled with joy and a sense of community. His personal connection to the cause, having family members with special needs, deepened his appreciation for the athletes' determination. Interacting with these inspiring individuals was undoubtedly the highlight of David's day, as he witnessed their unwavering spirits and witnessed their achievements. He looks forward to continuing his volunteer efforts to foster a more inclusive society that provides equal opportunities for all.
Colby, a member of our Client Services team, described the event as a pinnacle moment for many participants, making it one of the most significant weeks of their year. Assisting the racers and witnessing their excitement as they took their positions in the lanes brought immeasurable fulfillment to Colby's heart. This experience affirmed the importance of community engagement and serving those who deserve support and encouragement.
Ansarada's Commitment to Community:
Lane's involvement as one of Ansarada's 10 global Community Ambassadors demonstrates the company's dedication to making a positive impact worldwide. These ambassadors work across all regions, driving fundraising initiatives, engaging in community leave projects, fostering charity and not-for-profit partnerships, and championing environmental sustainability actions. Through their efforts, Ansarada seeks to be a force for good, inspiring others to join in creating a better world.
Our Chicago Ansaradan's participation in the Special Olympics track & field event exemplifies Ansarada's commitment to community engagement and making a difference in the lives of individuals with intellectual disabilities. Through their dedicated volunteer work, the team experienced the immeasurable joy and inspiration that comes from witnessing the athletes' courage and determination. Lane's role as a community ambassador further emphasizes Ansarada's global efforts to promote positive change. As Ansarada continues to drive initiatives that contribute to the betterment of society, Team Ansarada's involvement in the Special Olympics serves as a shining example of the transformative power of community service.
Discover What's Next
Join us to grow fearlessly in your career, help businesses be a force for good and create what's next to drive smarter, more responsible businesses globally. Break new ground in your career with a team committed to empowering employees and creating a great workplace culture.
Join Team Ansarada
About Ansarada
We're a SaaS platform that companies, advisors and governments rely on for securely managing critical information, workflow and collaboration in high-stakes processes like deals, risk, compliance, board governance and procurement. We're the software relied upon by business pros in over 180 countries. We bring order to organisational chaos to increase business value. Our mission is to raise and protect every company's potential. Learn more about us here.