New Ansarada Indicators shows US interest driving Aussie tech deal boom
By ansaradaThu Aug 23 2018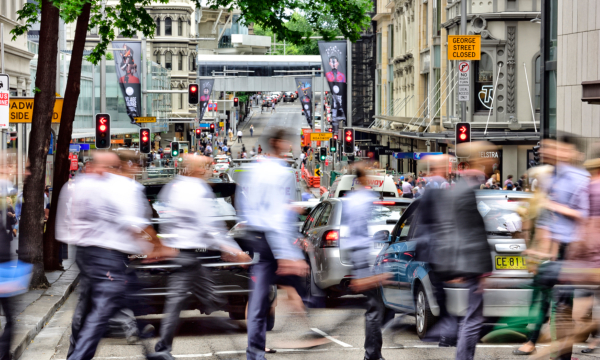 Latest quarterly report on Australian deals reveals tech is booming, commercial real estate is going from strength to strength, and the US is looking down under
Sydney, 21 August 2018
— The Australian tech sector is attracting attention from US investors and driving a 33% increase in M&A deals across the last quarter (April, May, June), the
latest Indicators report
by global business readiness platform Ansarada reveals. The Indicators series draws on anonymised, aggregated data across more than 20,000 deals on the Ansarada platform. It is the only data that reveals trends in the deals landscape as they happen, not after they've happened.
Key data findings:
US interest in Australian companies has almost doubled over the past two quarters, with the proportion of offshore interest in Australian M&A deals coming from US-based investors jumping from 16% to 32%
The number of new tech deals increased by 33% compared to the previous quarter, due to interest in local SaaS players and Australia's innovations in emerging technologies like quantum technology
Real estate saw a 25% uptick in new deals commencing, thanks to attractive alternative asset classes like student housing and data centres
The industrials sector saw a 23% increase in new deals commencing compared to the previous quarter
Consumer deals are down 30% compared to the previous quarter
An 18% quarterly decrease in the materials sector reveals investor interest in mining is low
Aussie tech punches above its weight on the global stage
There was an uplift in tech deals commencing this quarter, with 33% more new M&A deals in tech compared to the previous quarter. The US is a major contributor to this boost in activity, with US-based investors paying close attention to accelerated growth in the Australian tech sector and leading SaaS players like Atlassian and WiseTech. The last quarter saw a host of Australian tech startups secure funding from US investors, including LawPath's $1.8 million funding from US legal services giant LegalZoom, SeatFrog's $8 million funding round from Octopus Ventures, Zoox's $677 million Series B funding round led by Atlassian's Mike Cannon-Brookes, and Lumitron's $33 million raise from global investors.
Continued optimism in commercial real estate
The Australian real estate sector had its strongest quarter in the past 12 months, with 25% more new deals than the previous quarter. While last quarter saw offshore investment drive a boom in commercial real estate deals, this quarter the tune is changing with increased activity from local investors, and less from the wider Asia-Pacific region. Investment from Singapore-based investors halved this quarter, but the nation remains a key player in Australia's real estate market, representing 50% of total offshore interest. Singapore's strong interest in Australian real estate, mainly alternative sectors such as data centres and student accommodation, is offsetting a loss in Chinese capital. Interest from China only rose slightly this quarter, representing 4% of all offshore interest — around half that experienced throughout 2017.
Sam Riley, Ansarada co-founder and CEO, said:
"American capital markets have long been an essential source of capital for Aussie companies and the impact this foreign investment has had on Australia's economic success is significant. We've seen strengthening confidence from US investors in the local tech scene, which is a nod to the world-leading innovation coming out of Australia."
"A retrospective view of what happened in the M&A landscape based on publicly reported, closed deals isn't an accurate depiction of the trends that are emerging right now. Indicators fills this gap, looking across new deals commencing and in pipeline to give dealmakers real-time insight into where to strike for the best opportunities. Now's the time to be forging relationships with investors in the US and looking into emerging tech."
Industry Commentary:
"This report is consistent at a macro level with the trends we're seeing on the ground across the various sectors. For example, we saw significant activity in the resources and materials sectors at the start of the year but this has slowed over the last two quarters," Kunal Mamik, Executive Director, Investment Banking Division, Morgan Stanley.
Additional Resources:
About Ansarada
Ansarada is a founder-led fast growth global technology company. Ansarada helps advisors and investors identify prospects, raise their potential and nurture them through preparation and execution of deals like debt and equity capital raising, refinancing and M&A. Established in 2005, Ansarada Virtual Data Rooms have helped the world's leading investors, advisors and corporates close over 20,000 deals. The data and experience from serving clients in these deals has been used to design AI and machine learning tools that remove unnecessary risk, stress and time when preparing for and executing material events. Ansarada employs 200 people globally and operates out of Sydney, Chicago, London, New York, Amsterdam, Frankfurt, Johannesburg and Hong Kong.
About Indicators
For Ansarada, Indicators is simply the next step to unlocking more value from the wealth of data found in its deal rooms for the benefit of dealmakers everywhere. The report is part of Ansarada's ongoing commitment to helping businesses and their advisors prepare for material events, by providing insights and full visibility into deals, so they can make informed decisions. Download the Indicators report
here
.
Original article posted on Financial Review here