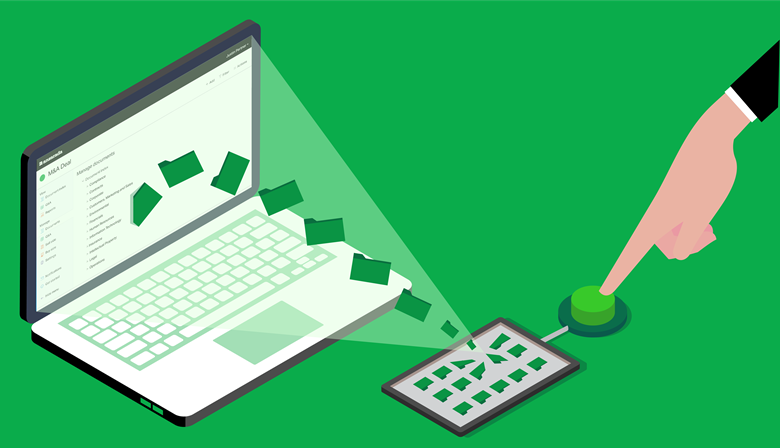 Another day, another deal. Your client might be desperate to get their deal moving, but they will almost always underestimate the amount of work required to prepare their company for sale or investment. Put mildly: there are a lot of moving parts to deal preparation.
Preparing your client's early IRL checklist, tracking NDAs, assembling and organizing documents – all of this has to be done within tight time constraints and with the utmost security in place to protect sensitive information from being disclosed.
There are several issues with preparing this early work using unfit tools like spreadsheets or emails. Take just one element of deal preparation: The IRL (or RFI) process. The typical IRL process is highly inefficient and prone to error, involving many versions of Excel spreadsheets, documents, and email exchanges.
That's some 'risky sheet'
.
And what about preparing in a live Data Room?
Uploading files directly into legacy data rooms is manual, time-consuming, and puts unnecessary
pressure on junior staff
in particular. And since you can't be sure what issues might surface in your client's information, you run the risk of failing to address these issues before they can be viewed by a third party.
So what's the solution to moving fast and effectively with reduced risk?
Deal Workflow and the new 'Move Documents' feature
Deal Workflow
is a project management tool allowing advisors to boost the efficiency of their clients' preparation efforts in a single, secure environment alongside the Data Room. Digitized workflow checklists deliver visibility over processes like IRL management, including task assignment and completion, tracked in real time. More exciting than that, it's completely free for advisors to use to prepare their clients.
Now, once you and your client have completed all your preparation in Workflow, you can move your organized documents directly into the Data Room to execute. Within a few clicks, your client is ready for bidders or investors to review their structured information.
What is 'Move Documents'?
'Move Documents' is functionality that can sync your Workflow folder structures to the Data Room, along with all your prepared documentation. In a matter of a few clicks, you can have your perfectly organized Data Room populated and ready to execute.
Move all your structured information in one go, or incrementally move folders into the Data Room as documentation is ready. The system will automatically detect the same folder name to prevent duplicates and to merge documents into their correct folders.
The benefits for you and your clients
For advisors, this presents a whole new level of control and protection. No more worrying about whether your client will upload documents to the wrong folder in the Data Room – they can do all their preparation in Workflow (for free), and you can hit 'Move docs' when you're happy with the folder structure.
This takes pressure off your clients, who can focus on uploading documents against tasks instead of worrying about where it'll go in the Data Room. As one Project Operations Manager put it: "So they could upload the documents straight into the Ansarada folder? Oh man - that would be a god send... that would be phenomenal!"
For all those involved in the deal, it makes incremental workflow incredibly simple. In a typical deal, you might reach the point where you're 80% ready to go, with some last documents dribbling in, and you're left with the dilemma of whether to pull the trigger or not. With your information being prepared in Workflow, you can Move Documents at any point; once the final documents are ready, they'll sync through to the right place in seconds.
And most importantly of all, you can templatize your go-to Workflows – like your handy IRL checklist – and standardize your entire IRL process across multiple clients. And not just IRL. Use Workflow to standardize all your different deal processes, from preparation to close, all the way through to post-deal integration. It's incredibly powerful.
Get started for free today
Your client wants speed and security. Kick off the deal now with a quote and start preparing for free in Deal Workflow. It's step one to standardizing all your deal processes and unlocking unmatched efficiencies with Ansarada.
Get a quote and a free Data Room