Anonymous, segregated and secure: New multiple submission tool makes for seamless bidder interaction
Now you can facilitate safe, efficient, customized bidder interaction across all stages of the procurement process.
By AnsaradaTue May 18 2021Innovation, Tenders, Product know how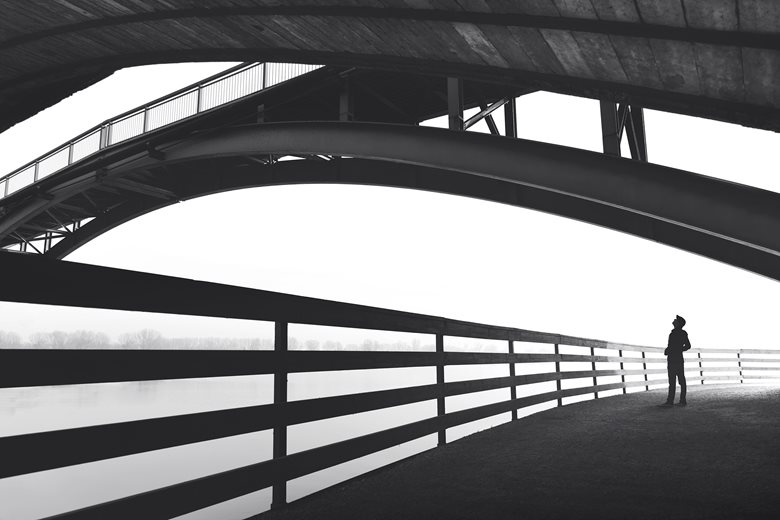 Large-scale infrastructure and government tenders are set to play a major role in boosting economies after what has been a challenging year for everyone. Today, there is a real sense of hope and opportunity – but along with that comes the added pressure to execute these high-value transactions even more efficiently.
But how can tender teams move faster without introducing unnecessary risk? Speeding up the process shouldn't come at the cost of mismanaged probity or the risk of a security breach.
The answer to a safer, more efficient, and proven effective way of managing tenders is to seamlessly run all stages of bidder interaction separately - from pre-qualification to contact execution - within a single secured and fully audited environment.
The benefits of an all-in-one solution are numerous
.
To reflect the real complexity seen in most tendering processes, you need the ability to handle multiple separate RFP processes, often at once. New to Ansarada Tenders is our multiple submission tool, allowing you to facilitate multiple submission events securely, efficiently, and concurrently.
Unlimited submission requests
Allowing for unlimited submission requests across different timelines, the new multiple submission tool enables safe, efficient, and fully customized bidder interaction across all stages of the procurement process. Keep information moving quickly, as more comprehensive and time-consuming requests are isolated into their own window.
Locked and unlocked options allow you to run each RFP as strictly as your probity guidelines require. Set them as a 'locked box', where the admin team can't see the bid until the time period closes, or switch that feature off for more ad hoc information gathering without an official time window.
Now you can have the ability to seamlessly run all stages of bidder interaction separately within the one environment, including:
Pre Qualification, Expression of Interest (EOI)
Separate and concurrent bid submission windows if technical and commercial are separated
Supplementary bid submission windows (if required)
Requests for information during the evaluation phase
Any other requirement for bidders to provide documentation
All in a 'locked box' or 'unlocked' configuration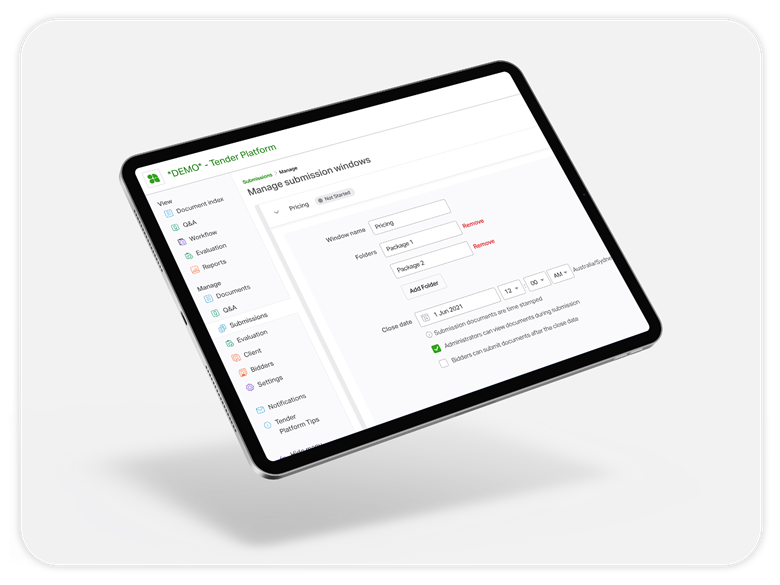 First-of-its-kind tender technology
Ansarada's multiple submission tool is the first of its kind to manage complex tendering and RFP processes - from start to finish - in a single, secure environment.

The ability to provide bidders with multiple requests with varied deadlines ensures a smooth tendering process that is run on your expected timeline, allowing tendering teams, bidders, and evaluation teams to work in lock-step across different stages of the deal, with all information from both sides of the transaction provided and reviewed in a closed environment.

Ansarada Tenders leaves no room for doubt, creating a comprehensive audit trail unmatched by other solutions. Get in touch with us today for a demo and learn more about any of our world-first features.