Say hello to AiDA, the Ansarada Intelligent Deal Assistant
Intelligent insights on your deals are available anytime with the addition of AiDA to your deal team. Introducing the Ansarada Intelligent Deal Assistant.
By ansaradaMon Sep 18 2017Innovation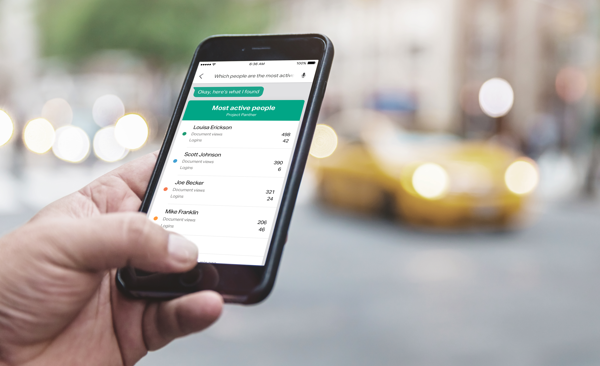 The first AI powered addition to your deal team
Gone are the days of racing back to the office at 10pm (or sending an analyst) to pull a report from your deal room and provide an update to your client on the status. Ansarada has harnessed the power of artificial intelligence (AI) and machine learning to create the world's first natural language processing data room analyst.
Think Siri for the data room, the ultimate personal assistant giving you intelligent insights into your deal by simply answering the questions you ask. This is the Ansarada
Intelligent Deal Assistant
or AiDA for short.
As a senior deal maker, AiDA gives clients an amazing experience and the advantage of immediate and total oversight over every deal. In flight. No longer do you have to wait around for your team to produce deal information or find yourself unaware or unprepared, with AiDA you're armed and ready in any situation.
AiDA means instant answers at critical moments, a way to ensure you don't miss any current or future opportunities during a material business event.
The old way vs the AiDA way: Deal making for the 21st century
We know as a dealmaker you're constantly being pulled in many different directions.
You're pitching to a new client face to face one moment, at the next, sprinting to a meeting with an existing client to talk over what they could do next, while all the time keeping tabs on and advising your team on a live transaction.
How is it that with all the technological advances today, deal making feels so 20th century? You have a better picture of your family and friends personal lives through social media than you do of the status of your deal. Not anymore.
Now with AiDA, the next generation of deal making has arrived.
How AiDA works
The Ansarada Intelligent Deal Assistant utilizes natural language processing, machine learning and artificial intelligence. AiDA's technology allows several things:
AiDA understands what you mean and the intent behind your question. AiDA's brain recognises each word and understands how to answer you, because of its natural language processing power

Using machine learning and state of the art technology AiDA immediately returns answers about your deal to your iPhone, eliminating the need to pull manual reports or have analysts crunching numbers unnecessarily
AiDA continually gets better
Just as you would expect continual learning and optimization from a team of analysts, over time AiDA improves its knowledge and capabilities, through learning from previous interactions.
As AiDA learns over time:
There will be an ever expanding list of questions and scenarios that AiDA will be able to recognize and answer

AiDA will be able to offer additional insights based on historic data of 20,000 plus deals to help you shepherd your deal to a faster and better outcome

AiDA will be able to provide graphical representations of the data you request for easy digestion and interpretation
Welcome AiDA to your deal team today.
Download AiDA
from the app store now or
contact us
to learn more about getting the AiDA advantage on your deals with Ansarada.