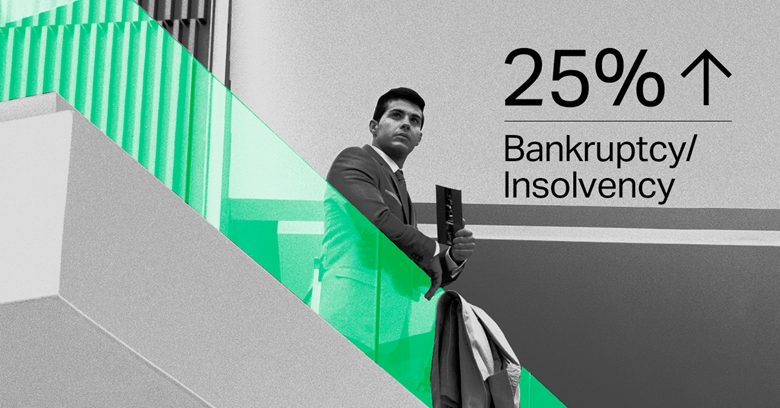 Our
Deal Indicators
show an increase of 25% QoQ globally, and a decrease of 24% YoY over the 2022 financial year. While the number of bankruptcies and insolvencies has been low over the year, we're starting to see the telltale signs of a turnaround.
Since early in 2020, we've seen multiple regulatory changes and support and stimulus packages put in place by governments as a COVID lifeline, which has given struggling businesses more time to review strategies, operations and management. On the flip side, the government lifelines have enabled some businesses to put off tough decisions - and many believe that this has delayed the inevitable insolvency wave.
We can expect to see a surge in insolvency and restructuring activity as these temporary measures are lifted, particularly as we continue to struggle with a volatile market.
This is empirical confirmation of what we are beginning to see on the ground: increased business distress across the board, but particularly in construction, property and retail. Business needs to prepare for economic headwinds.
Noel McCoy, Partner, Norton Rose Fulbright Australia
Voluntary insolvencies in England and Wales
hit a 60-year high
in the first quarter of the year amid high numbers of business closures. History suggests that Australia is likely to follow suit, and the signs are already there.
In Australia, court-appointed
liquidations rose 114% YoY
in the third quarter of the 2022 financial year, and the Australian Tax Office (ATO) is already
issuing 30-40 director penalty notices
per day - a sharp contrast to the leniency they displayed during the COVID period.
One industry in Australia that has been particularly impacted is the building and construction industry, with several high-profile collapses in the past year and fears that more will follow suit.
Pandemic-based project delays and rising costs of labor, energy and materials have forced many to close doors. Globally, building & construction, industrial manufacturing and retail are the industries dealing with the greatest escalation of insolvencies so far.
"The data is starting to reflect the inevitable uptick, or rather normalization, in formal insolvency appointments which will likely continue into the new calendar year," says Nicholas Edwards, Partner at Hamilton Locke. "Government support measures and goodwill that existed during the pandemic are now at an end, and with the specter of ongoing inflation concerns, increased interest rates, continuing supply chain issues and declining consumer sentiment we will see a significant rise in formal insolvency. Coming off historic lows during the last 24 months, we will see zombie companies and businesses hamstrung with legacy debt issues looking to either restructure or be wound-up. This trend is already playing out in the construction and property space, but we anticipate it to also impact anything associated with discretionary spend including retail, hospitality and logistics heavily as well."