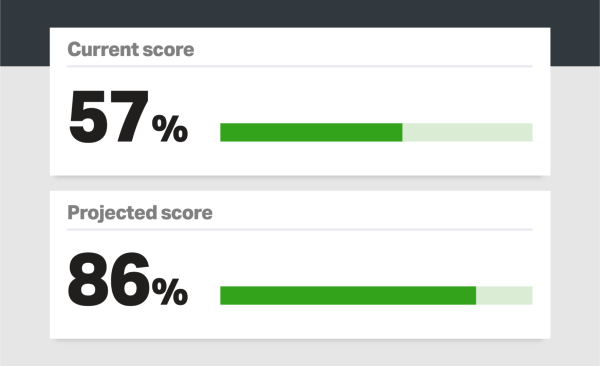 Got an event on the horizon? Whether it's a complex M&A deal, a potential funding round, or a simple audit, the same rules apply to all – preparation is critical. And being ready starts with knowing. For too long, companies have gotten used to getting business in order at the last minute, uploading files and documents into a virtual data room for due diligence without much prior knowledge of what they'll find (and worse, what a third party might find). Right at the moment they finish gathering all their critical documentation, they risk discovering major gaps or roadblocks at a junction where it's nearly impossible to turn back – certainly not without incurring major cost and resourcing. Well, legacy data rooms are on their way out, and their replacement is filling in all the blanks. No more guessing; only full visibility over the current state of your business, a clear picture what it will take to reach your ideal state, and the steps to get there.
Step one? Get your score and know where you really stand.

What is a scorecard?
Within Ansarada's platform, digital scorecards are used to assess your company's readiness for a transaction or other business outcome. Your 'score' is the measure of completeness and quality of information you have provided. Using the scorecard (either templatized or custom-created), start by filling in basic information about your company. Your score will tell you where you stand in less than 15 minutes. You'll quickly be able to see what documentation you'll need to produce, and where the gaps in your material information are. You'll also have a clear picture of what it means to be ready for your target business outcome - whether that's an M&A deal, audit or simply getting in your best shape - so you can progress at a pace towards a perfect score.
Keep your team future-focused
It's difficult to ask your team to deviate from business as usual, and on top of that, to get them excited about rifling through thousands of documents to find the ones you need for your deal. Scores and progress bars tap into our natural human instincts for competition and achievement to keep your team engaged from the beginning. They'll be able to see exactly where the company is in the process and – more importantly – see how far they've still got to go. Educational topic guides within the platform allow your team to be self-sufficient, with explanations of what certain documents are and why they are critical to a successful deal outcome. By rewarding your team with an improved score every time they upload a document to the platform, you're reinforcing their behaviour. They are that little bit closer to reaching 100%: total readiness for the deal and business in its optimum shape.
To find out more about scorecards or request a demo to discover your readiness score, get in touch with us here.