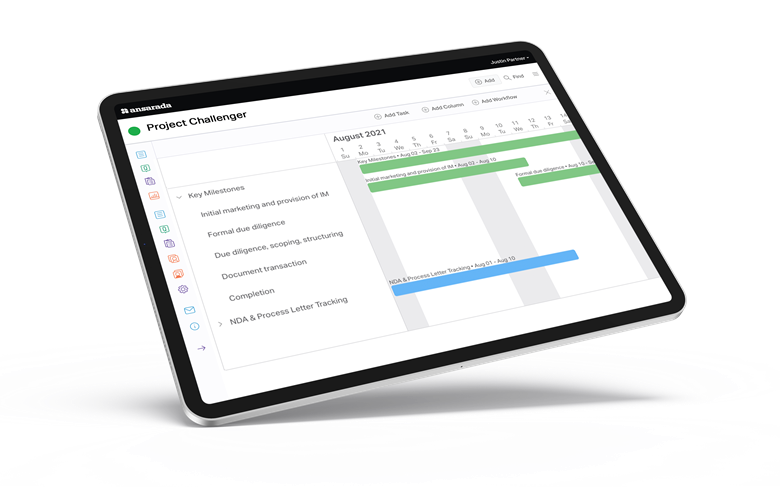 Deal Workflow
is a project management tool for advisors to digitize all their existing workstreams. Built into the Ansarada Deals platform, Workflow allows you to upload your spreadsheets and due diligence checklists to enhance repeatability and accelerate deal outcomes.
Workflow is designed to give you clarity and control from the earliest strategic work – from deal marketing and preparation all the way through to a successful close and post-deal integration. Best of all, you can standardize all of these processes within the centralized Deals platform so they can be duplicated & reused for the next deal.

New in Deal Workflow: The power of visualization
Now you can visualize your deal workflows in a Gantt chart for a birds-eye view of all your projects and timelines.
In its simplest terms, a Gantt chart is a visual representation of your project. It lays out both activities and timelines in a way that shows their order and their dependencies.
Simply add a 'Date range' column to your Workflow space, put in the key dates, and toggle to Gantt chart view. Only tasks with at least one date (start, end, or both) will be visible on the Gantt chart.
Gantt charts are an essential part of visualizing your project management, particularly when it comes to showing plans and progress to stakeholders or clients. Identify associated key risks and issues, and make changes straight away that can improve the outcome of your deal.
Take it for a free test drive
Ansarada's Deal Workflow tool is free to use until your deal goes live, so you can digitize and streamline all your essential deal strategy, marketing and preparation tasks at no extra cost. Try out the new Gantt chart view in Deal Workflow today.
Try now for free