6 Ways Modern Investment Bank MDs Differentiate 
When it comes to helping clients achieve critical business outcomes, a one-size-fits-all approach in a legacy Virtual Data Room is no longer meeting the standard.
By AnsaradaFri Apr 30 2021Mergers and acquisitions, Advisors, Innovation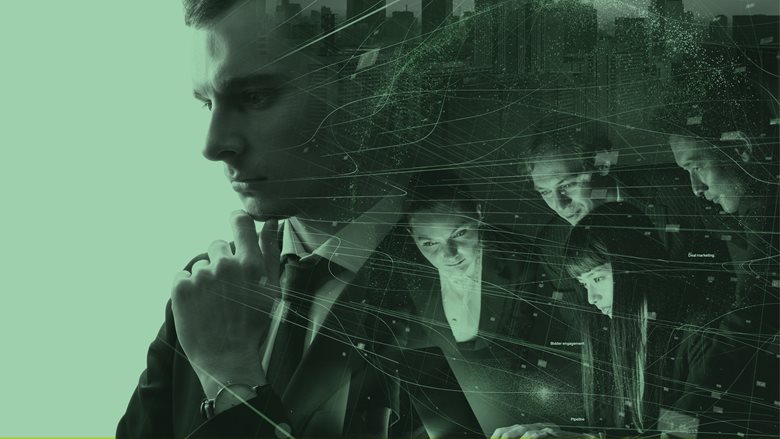 Deals are heating up, but so is the competition. 52% of dealmakers surveyed in our
Global M&A Predictions
report believe the number of M&A deals will rise in 2021. 53% of US executives plan on increasing their M&A investment in 2021, according to the
PWC US Pulse Survey (Nov 2020)
.
Advisors need to differentiate themselves from their competitors by demonstrating the value they can offer their clients from day one. Leading a client presentation with generic 'discussion materials' no longer cuts it. Clients demand their advisory services to be tailored and specific to their needs.
"One of the challenges that everyone is facing is the impact that COVID has had on the M&A market. For us, we've used it as an opportunity to think outside of the box," said Matt Laskowski, Business Development Manager at Logisyn, Chicago. "Every deal is different, as are each clients' needs. We take that into account to get them the best return possible, often achieved through creative deal structure, which starts with finding the right strategic or financial partner."
How can you elevate your services to stand out from the competition and give clients what they want?
Showing the value you can offer the client's business on day one with a purpose-built Deals solution is an impressive differentiator, and something competitors simply can't match with a standard email approach.
Today's modern MD needs to adopt a specialized approach to supporting clients, and offer them a highly accessible way to drive efficiencies, reduce risk and build value at every stage - from the initial outreach onwards.
The modern dealmaker
…Starts long before the deal
According to a recent
Harvard Business Review report
, the failure rate for M&A transactions sits between 70-90%. The risks of being unprepared can go far beyond the deal falling through, but can involve significant reputational damage for advisors as well.
One of the key drivers of M&A activity is the seizure of targets opportunistically as they become available, and COVID has amplified these opportunities. However, very few businesses are prepared for them. Modern advisors know that preparing their clients - long before it's time to enter the Data Room - is critical.
"Earlier engagement with clients is really the key to unlocking more deals – before they might even be considering an exit. Ansarada has allowed us to tailor our pitches and reach out to potential clients at scale, which has helped us boost our deal pipeline and get clients preparing sooner," said Johan Holtzhausen, Managing Director at PSG Capital. Holtzhausen was the winner of 2020's Deal of the Year award for the most successful deal from a value standpoint, Pepsico's acquisition of Pioneer Foods, which was run on the Ansarada platform.
A centralized deal solution that brings all of these processes together from the earliest stages of outreach is key to reducing risk, driving client outcomes and maximizing value.
…Customizes their presentation and strategies to each client
Today's customers expect what they want to be 'on-demand' and tailored to their needs - and expectations have only increased alongside restrictions imposed by the pandemic.
Customization is essential for advisors to deliver a made-to-measure client experience, from the initial pitch through support with preparation, execution and closing. Tailoring the experience drives client loyalty and increases their likelihood of coming back for the next transaction. However, it can take time, money and dedicated resources to customize your services. Even clients aiming for a similar outcome can have very different needs and unique requirements.
Using customizable digitized checklists like Deal Workflow™, MDs can track all NDAs and initial information provided across multiple clients simultaneously with a clean dashboard view, tailoring their process to suit each client.
"Ansarada is unique because it is scalable but also simple. By being customizable but not cumbersome, it brings a level of automation to the due diligence process that ensures a more streamlined transaction," said Martin Quigley, M&A Engagement Director at Logisyn.
…Uses technology to reduce risk & drive efficiencies
Managing deal pipelines via emails or spreadsheets isn't scalable. You might meet a client, give them your standard pitch, follow up with an email, then wait days or weeks before they engage with your firm and provide the right information. The result can be a never-ending back and forth.
On the other end of the spectrum, you might have clients who demand an inordinate amount of your attention, leaving you no time to reach out to new ones.
By digitizing all project management and workflows in a single Deals space, modern dealmakers automate manual processes to get companies prepared faster.
46% of dealmakers believe the advancement of deal prep and due diligence technology will be the number one biggest contributor to more efficient remote dealmaking in 2021 (
Global M&A Predictions
).
"Ansarada has allowed us to streamline and standardize those painful, repetitive elements of the deal process – that's how we are able to build our pipeline and close more deals," said Holtzhausen. "Preparing early, reducing risk, driving efficiencies – successful deals require all of these elements, and that's why technology like Ansarada is a game-changer."
…Centralizes all deal activity to monitor progress and make decisions
With the risk of failure so high, visibility over information, people and performance is key. This is only made possible when activity occurs in a single, purpose-built system.
Managing different processes in spreadsheets and emails creates information silos that can lead to duplicate work and tasks getting missed.
"At the forefront of the key challenges facing us is the extensive amount of activity in the Logistics M&A market at present. This level of industry activity isn't reserved to one sector or type of business; it's composed of a vast variety of companies. From small to large, local to global, technology to asset-based, everything is in play at the same time," said Quigley. "Therefore, it is essential to have a scalable and fully customizable platform like Ansarada to rely on to support diligence activities. It allows us to manage all active deals easily, which gives us more time to focus on what Logisyn does best - using our industry knowledge and expertise to deliver an optimal strategic solution to our clients."
With a single Deals space to manage workflows, project management and people, modern advisors get unparalleled visibility across progress, so that they can find strategic fits faster and de-risk working with the wrong clients who can impact profitability.
...Delivers value through specialization
"Our M&A brokerage caters to the Logistics industry, specifically because we are logistics experts first and investment bankers second. Our firm is an assembly of professionals who have operated in the space, having run companies themselves and owned p&l's," said Quigley. "Further, we do not simply understand the business of Logistics, as well as the business of selling or acquiring a Logistics company, we also understand how a buyer or seller should position to achieve maximum value from the transaction."
Eliminating the need for spreadsheets and Gantt charts, advisors can prove to their clients that they are getting the most out of their industry knowledge and experience. They have more time for high-value strategy, discussion and relationships because the tech handles the manual tasks and keeps them organized and on track.
…Gives their clients confidence in outcomes
One of the biggest challenges in the current climate is managing expectations. Being upfront and honest with clients to manage these expectations is crucial. By outlining all requirements from the beginning and showing them exactly what to do to get from A to B, modern advisors can manage their clients' expectations and demonstrate progress at every step of the way.
"Investors need confidence in the outcome of the deal coming to fruition. They don't have the luxury of making decisions based on business growth. Many decisions are based on business certainty, confidence and consolidating operations," said Kerri Murphy, Head of US Region for Ansarada.
Investment bank MDs get free access
Ansarada Deals™ is a total transaction management solution bringing confidence and control to advisors and their clients across the full deal lifecycle. Don't pay a thing until your first guest user logs in.