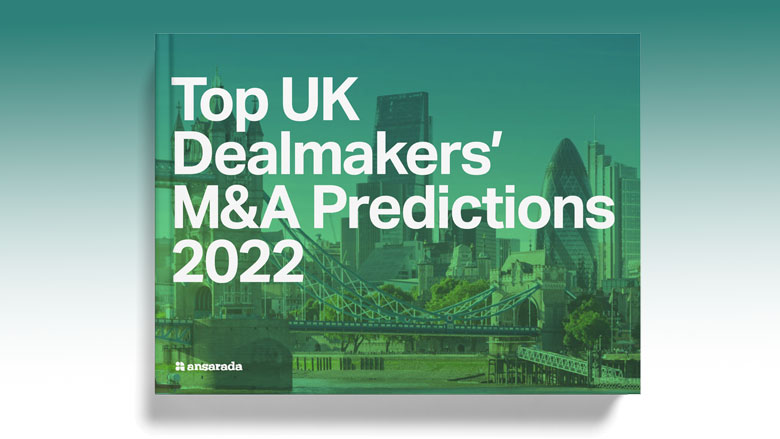 M&A deals in the UK are expected to rise in the next 12 months, according to our recent survey with partners Mergermarket of UK Dealmakers.
The Ansarada UK Dealmakers Survey polled senior executives from 50 UK-based firms across investment banking, private equity and M&A law for their M&A. Findings have shown 90% of respondents believe that the number of M&A deals in the UK will increase in the next 12 months, including 54% who believe it will increase significantly.
It also found that more than half of respondents expect the number of distressed deals in the UK to rise in the coming 12 months, reflecting a difficult period for UK businesses which have faced disruption to supply chains in the midst of the pandemic and Brexit headwinds.
However, even Brexit has not dented sentiment in investment opportunities, with many respondents remaining upbeat on UK prospects as a deal destination. 40% said they expected the UK to become a more appealing venue for cross-border investment as funds benefit from the ability to buy companies at a favourable FX rate now that Britain has left the EU.
When it came to SPACs, UK sentiment remained pessimistic with only 38% expecting an increase, likely due to the FCA's recent updates to listing rules. Comparatively, participants cited SPAC-friendly regulatory updates as a possible indicator that Europe is in line for more deals, with 76% anticipating an uptick of SPACs over the next 12 months in Europe.
In terms of sectors, one third of respondents highlighted TMT as driving the most activity due to wide increases in digital consumption and connectivity. 70% said they also expected increased activity in distressed M&A to be across industrials and chemicals, real estate and construction, energy and mining, and utilities, all of which are cyclical industries that tend to underperform in times of recession.
The survey additionally examined views on two other critical aspects of M&A: ESG, and due diligence. As many as 98% expect the role of ESG to become a more important factor in M&A decisions, with 58% saying that it will become significantly more important.
The survey captured the challenges posed by the COVID-19 pandemic – including specifically the due diligence process - noting that 94% agree that due to the COVID-19 pandemic, M&A processes are taking longer. These challenges will remain, with 36% of respondents – a notable majority of responses within that question - viewing due diligence as being the most difficult part of the deal process over the next 12 months.
Stuart Clout Chief Revenue Officer, Ansarada commented: "Our research is showing a strong uptick in deal flow as the return to post-pandemic normal paves the way for increased corporate activity and growth in the UK."
Justin Smith, Chief Marketing Officer, Ansarada, commented: "However the UK M&A market is not fully out of the woods. Deals are still susceptible to a complex mix of extenuating situations. As we've seen, driver shortages and supply chain disruption in the UK has severely hampered UK businesses recently, and the largely expected surge in COVID-19 cases locally is of course something to be mindful of. These events will have knock-on consequences for dealmakers. Deal speed, preparation and quality due diligence is going to be essential if the expectations from the Dealmakers we surveyed are to be met."