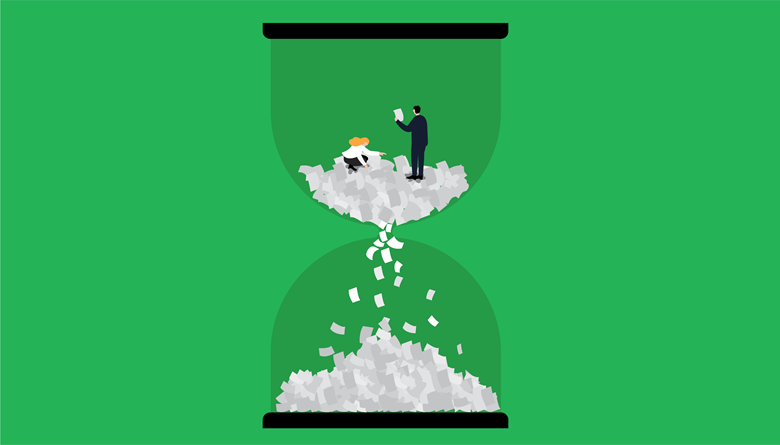 Did you know that the Q&A admin in your data room approves and forwards an average of 238 questions per deal? That's a lot of wasted time.
60% of all subject questions require approval and forwarding to subject matter experts. With typically high volumes, the task of forwarding these questions can be repetitive and tedious.
Using an estimate of about 30 seconds and 4 clicks to forward a question (from an email notification), it adds up quickly.
You questioned, we answered
Q&A admins can now automate their Q&A workflow so that questions are diverted directly to the right team, without manual assignment. Simply set your subject matter expert (or multiple experts), and provided they have the right permissions granted, questions will be forwarded to them automatically.
This simple update can save you at least 2 hours – or 950 extraneous clicks – over the course of your next deal. (That's also 950 email notifications avoided!) If you're an analyst working an average of 3-5 deals annually, this can add up to a whole day saved over the course of the year.
And you need it. A recent
eFinancial Careers Resilience Survey
showed that 54% of M&A bankers were 'super-exhausted' at the end of last year, and 37% of analysts still
average five hours of sleep
(or less) a night.
Ansarada's Q&A facility is built into the Deals space to keep the entire process protected against risk of accidental disclosure. Here are a few more
Q&A tips
to speed up your deal and boost performance.
Automated Q&A is just one way to streamline your deal processes
Ansarada Deals™
was designed to make your life easier during a stressful transaction, which is why we take every opportunity to automate the manual, repetitive elements of the deal process – not just Q&A.
Use the Deal Workflow™ tool to digitize your due diligence checklists so you can govern information, people and dates in real time, and reduce hundreds of risky emails going back and forth. Import your own Excel sheets directly to be up and running immediately.

Use comprehensive Data Room reports to gain instant insight into user activity and intent without spending hours searching for it – including the AI-powered Bidder Engagement Score, which can predict your winning bidder with up to 97% accuracy by day 7.

Use bulk actions and AI tools including Smart Sort and Smart Upload to automatically upload and organize all your information to your preferred structure in the Data Room.

Use our automatic quoting system for advisors to get a quote and a free Data Room in minutes, with no cost until the first guest user logs in.

Automate your processes
With Ansarada Deals™, you won't waste time on anything manual or repetitive. Let us take care of the tedious tasks so you can focus on your strategy and drive deal outcomes.