Are you frustrated with your board experience?
Ansarada Board removes unnecessary complexity, and centralizes & simplifies the day-to-day for stretched Directors & Co-secs
By AnsaradaWed Mar 17 2021CEO-CFO, Product know how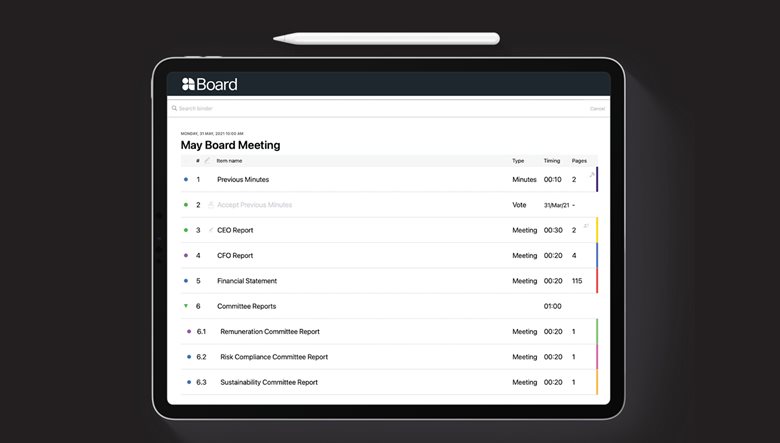 Simplicity can mean many things: it's clear, it's organised, it's easy. But ultimately, it's about taking what's complex and making it function in the easiest way possible.
For board members and company secretaries with demanding schedules and heavy corporate responsibilities, simplicity is essential. The simpler the day-to-day tasks – accessing board meetings & documentation, managing workloads, reviewing and collaborating – the more time the Board can unlock for higher value strategic work and growing the business.
Ansarada Board
brings the sophisticated simplicity you've come to expect from Ansarada to board management.
Quickly access all the information you need with an intuitive dashboard overview and features that are so easy to use, even first timers and the non-tech savvy will quickly be up to speed.
Setting up your first board meeting binder
Setting up your first board meeting (or binder, in Ansarada Board) can be done in minutes.
Admins can quickly create a binder, publish it, and send out updates to their directors as required. Whether it's making a last-minute change or building out a comprehensive binder in the week before the board meeting, Ansarada Board makes the process as seamless as possible.
Everything is updated and synced at the backend to help co-secs avoid the hassle of having to send multiple unsecure emails to directors each time an addition or edit is made.
Binder basics:
You can drag and drop to pull in documents or whole folders and reorder your meeting agenda in seconds.
A side-by-side view allows you to pin your agenda to the left-hand side of your screen so you can follow along with it while viewing documents on your right.
Use headers to expand or collapse indented agenda item groups as needed, and to avoid having to scroll all the way through long documents, like fifty-page PDF files.
Make freehand or dictated annotations to share your ideas – especially valuable for on the go – and sync these across devices.
Rapidly get your notes down; scribble annotations, highlight points of interest, outline shapes and compare annotated documents side-by-side.
The benefits of board simplicity
Simplifying board meetings and processes creates clarity and focus, reducing risk both immediately and in the long term.
With Ansarada Board, know that all board members are armed with all the information they need ahead of, during, and after the board meeting. By simplifying the day-to-day processes, boards can create significantly more effective output with less effort - and in less time.
Greater board governance
Companies with superior board and governance operations are more agile and confident in their financial performance, obligations, forecasting and reporting, relative to their peers. Learn why Ansarada Board is the simplest, safest and smartest solution to better board governance - request a demo to get started.
Book a demo