Bring the magic of simplicity to Board meeting management
You asked, we listened. With new updates, slick new interfaces, and a new binder wizard – we've made Board meeting management even simpler.
By AnsaradaMon Jul 25 2022Innovation, CEO-CFO, Product know how, Board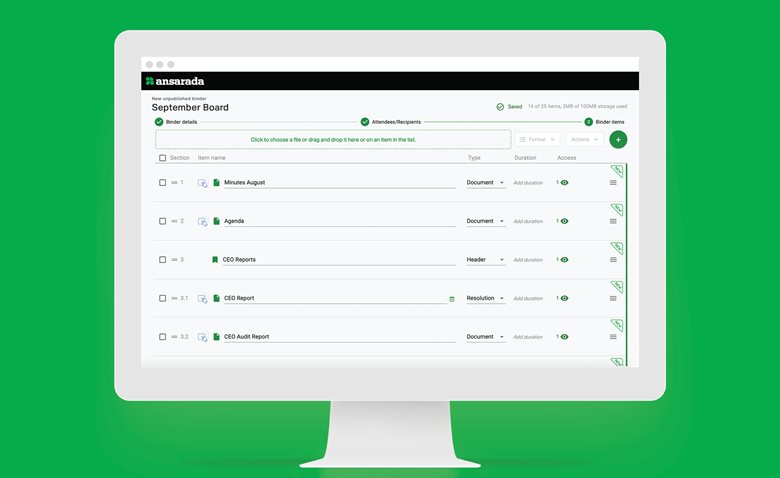 Board Directors and Company Secretaries have enough to worry about in today's market. Uncertainty and volatility are commonplace, making Board governance more important than ever.

Being able to optimize business processes, reduce risk and make fast decisions based on all the right information is critical in this environment. That's why we've made updates to Ansarada Board that will simplify the way you run and manage your board meetings.

We've been actively listening to your feedback, and have redesigned the user experience to make Board meeting management – and your life – easier.

What's new?
1. Sophisticated simplicity

We've taken complexity out of the front end, leaving you with a streamlined and simplified experience.

Boost your productivity with the new easy-to-use admin portal. The new interface is clean, clear, and couldn't be easier to use. We've simplified the menu so you can navigate around the platform quickly and with confidence.

Configuring board, binder and user settings has been simplified, giving you greater confidence that your information and documents are always secure - visible only to those with the approved level of access.

For even more smooth sailing, we've automated the process of user registration so that guest users can be approved and get started straight away, without the need for Admins to complete the 'finalize users' step.

2. Built-in advice & support

Now you can benefit from new tools and tips to get the most out of your Board experience. We've implemented assistants and guides to make sure you are getting value out of Ansarada Board's unique features.

We've also integrated our 24/7 online chat, so you can get your questions answered instantly by our celebrated support team – directly from the platform.

3. New Binder Create Wizard

We listened to feedback from our customers and have improved the overall flow of the binder process - both for editing existing binders and creating new ones.

The new Binder Create Wizard has been built to allow Admins to publish binders in as little as three steps. The wizard guides you through binder creation, highlighting tips to make the process as optimized and efficient as it can be, and ensuring that the administrator is assisted at each step.

Within binders, tab-like sections provide clear and succinct steps to follow, outlining all the necessary requirements to complete before moving onto the next step. This makes it perfect for Admins of all levels of tech savviness.

4. New Files User Interface

The new Files UI allows you to organize your files in folders for greater organizational structure and clear visibility. The new interface aligns with the Director apps and solutions that Board Admins will already be familiar with - including Windows, macOS, DropBox, Google drive, etc. - making it significantly more user friendly.

The new Files UI supports both folder and single document upload, with enclosed documents included within folders, simplifying the upload and management process. Traditional tags have been replaced with simple folder structures with drag and drop functionality, making it a breeze to re-order and navigate.

Explore the new updates today
Log in to explore the new look and features, or open up a free Ansarada Board account to try them out today.