Failing to plan is planning to fail
According to a recent survey by KPMG, 42 percent of companies are looking for a partner but most will fail to ink a good deal. What are the deal killers?
By ansaradaMon Oct 23 2017Mergers and acquisitions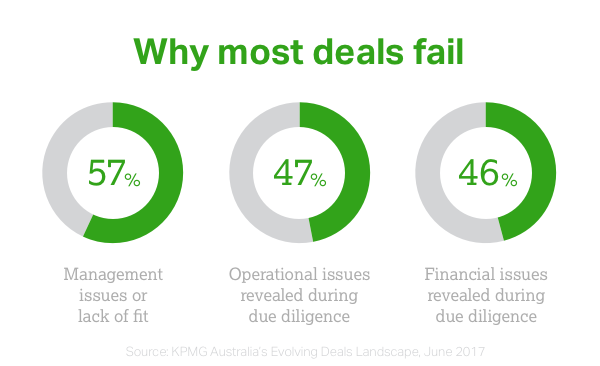 Why most businesses today fail to execute successful deals­
According to a
recent survey by KPMG
, '42 percent of companies are angling for a partner – whether through a joint venture or other means' over the next three years. That's a significant number of opportunities in the market, and yet a substantial number of these transactions will fail. The majority of them, in fact.
So why do most deals fail?
57% - Management issues or lack of fit

47% - Operational issues revealed during due diligence

46% - Financial issues revealed during due diligence
Put simply: because the companies weren't ready
One of the key drivers of M&A activity is the seizure of targets opportunistically as they become available – something that was cited as a priority for 32 percent of survey respondents. Ironically, these opportunities are something that very few businesses are prepared for.
An effective due diligence process is the most important part of deal preparation and execution, and the most critical to realizing maximum deal value. However, it's often too little too late. Companies go unprepared into the data room together only to be surprised (to their disadvantage) by what's presented there. Any chance of a successful integration is lost, and valuable time, cost and resources have been wasted.
Be ready before due diligence
Our
Material Information Platform
addresses these issues by preparing businesses for deal success long before the due diligence process commences. It uses an outcome-based scorecard system to measure a business's readiness for any type of material event, and AI tools to generate insights on the risks and opportunities they face.
Risk is always a key concern, which is why it's standard practice for companies to seek external services to evaluate the risk of a deal. Yet according to KPMG's research, companies are missing a huge opportunity by failing to focus on capturing value in the deal.
The Material Information Platform highlights both risks and opportunities early on, and offers a best-practice content library to help businesses fill in gaps where they are identified. The Platform enables an 'always-on' state of readiness, adding value before due diligence has started, and optimizing deal preparation and execution.
Make the Platform your secret weapon
According to KPMG, technology is 'clearly on the mind of corporate Australia', with 47 percent of those surveyed concerned about an increase in disruptive technology over the next 12 months. Here's your opportunity to get on the right side of disruption and get the upper hand when it comes to your businesses deal strategy and success. Read more about the launch of the Material Information Platform
here
.
Source
:
KPMG 2017 Australian Evolving Deals Landscape Survey