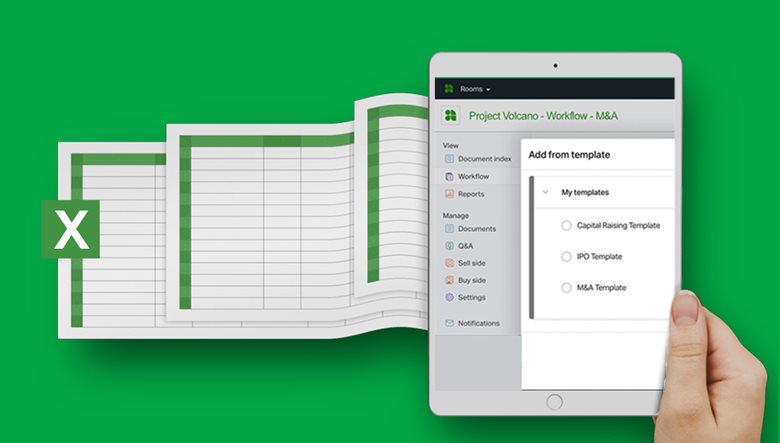 One of the biggest time wasters in an M&A deal – and in any type of transaction or event – is duplication of work. Starting each deal from scratch is not only repetitive, but eats into precious time when it counts the most.
Sure, you've probably got standard spreadsheets that you revisit each time, whether it's for your RFI process, NDA tracking or monitoring completion. But rebuilding these documents manually is a waste of time, leaving you with a lot of admin work that is prone to duplication before it even makes it into the Data Room. Not to mention the lack of version control when you start to collaborate with internal and external teams across static spreadsheets.
With Ansarada Deals, you can
import all your existing work from Excel
– your own due diligence checklists, workflows, document requirements and processes seamlessly into our Deal Workflow space.
Deal Workflow is a project management tool for you to digitize all your workstreams, so you can have complete oversight and control from the earliest stages of the deal. Collaboration within Workflow is efficient, secure and provides everyone involved with a real-time source of truth.
Now you can save your go-to workflows as templates to quickly and easily recreate past successes.
Do the hard work once, then reuse it
Organize all your pre-deal and due diligence activities - all the way through to post-deal integration - more effectively and efficiently with the introduction of templates.
Save your favourite Workflows as templates so you can reuse them on future projects. Now you can save time and cost every time you kick off a deal.
Once your go-to checklists are in the Deals space, they can quickly be replicated and re-used for the fastest possible setup of your next transaction.
Templating is the key to standardizing all your workflows on Ansarada. Share best-practice with your teams and track progress with complete visibility and control. Adapt and improve your templates as you use them to get more efficient and perfect your processes over time.
How to create a template
Step one is to create your Workflow or import one of your existing spreadsheets from Excel into the Workflow space.

Under 'Actions' in your Workflow tab, click 'Save as template'. Give your template a name and add it to your template library. 

Import your template into an existing Data Room, or add it to a new room to start using it right away. 



Saving your own personal templates is just step one
Soon you'll be able to manage templates and share them with your team to build up a shared library of best-practice templates.
Coming later this year, phase two of templating will give a significant advantage to those who want to continuously improve their team's productivity and quality of execution. You'll be able to create and manage organizational templates you can roll out systematically when required.
Advisors - share templates with your clients to help them better manage their internal processes. Strengthen your client relationships and make your services stand out.
Stay tuned for phase 2, coming soon!
Try templating today for free
Jump into your Workflow space to save your first template, or get started on a free trial to try out templating for yourself. Alternatively, book a demo and our team will be happy to help you set up your first template.