The path to IPO starts with a compelling brand story
To take advantage of the flood of IPO activity and maximize valuation, private companies need to start with early preparation and a strong brand narrative.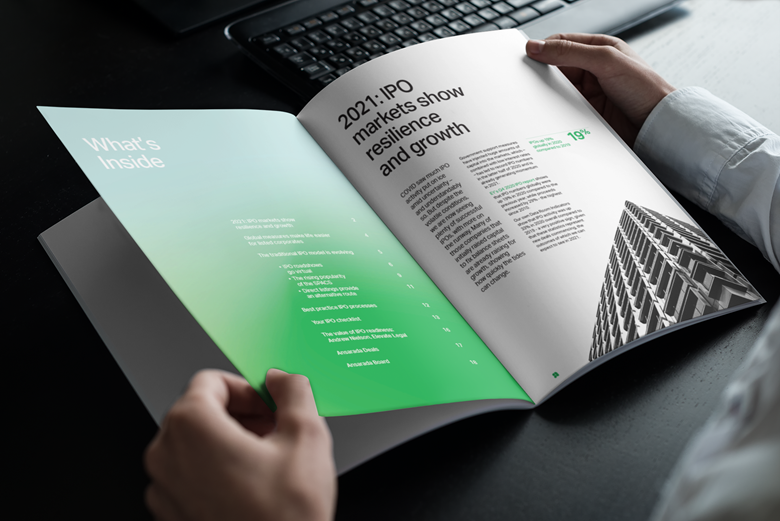 Bouncing back from a COVID-induced pause in early 2020, IPO numbers have been gaining momentum since Q3 2020.
The number of IPOs globally increased by 19% in 2020 compared to the previous year, according to
EY's Q4 2020 IPO report
. This aligns with what we're seeing in our Data Room Indicators, which show new IPO deals commencing were up 33% in 2020 compared to 2019, the outcomes of which we can expect to see wrap up in 2021.
IPOs will continue to be essential for economic growth, for funding innovation, and for accelerating recovery of a post-COVID market. But with all this activity in the pipeline, there's never been a greater need for companies to differentiate themselves ahead of going public.
To stand out in a crowded market, a powerful brand story is essential.
Investor communications have become even more critical now that many
road shows have gone online
. A well-told story in the form of a first-rate prospectus can go a long way toward bridging the impersonal gap that can sometimes occur with collaboration across emails or Zoom.
Storytelling a key skill for entrepreneurs
In producing a well-branded prospectus, business leaders need to simplify the complex; the brand narrative needs to be reshaped to increase the likelihood of securing capital. In short, it answers the question 'why should I invest?' for investors – in the simplest way possible.
Your prospectus is a prime opportunity to help potential investors understand your company's identity. It packages up all the facts into a simple, cohesive story that shows your uniqueness and the chronological progression of your company from start to present day.
Storytelling is a fundamental tool for providing context for situations that may otherwise be unclear. Within a prospectus, storytelling links the company's journey to a broader narrative that is much simpler for investors to recognize.
Why is good storytelling so important?
How can a good story impact a company's potential valuation? By communicating the logic behind the company's strategic decisions and goals in a framework that is significantly easier for investors to understand and remember.
Your brand story showcases all elements of your culture, vision and strategy in an easy-to-digest narrative. It demonstrates that all risks have been carefully considered and shows how they will be proactively addressed. A compelling story will not only generate interest among investors, but reassure them and motivate them to act on the opportunity.
The challenge is paying attention to the context of the story; it should be familiar enough to be recognizable but include enough originality to make your company stand out. Ultimately, it's about balancing the sense of risk; the story is unique, but not so unique as to be dangerous new territory.
Lessons learned
"Investors are looking for common themes and trends that they can tap into to try and place a new company in a risk and reward category. Spending time to ensure you understand how your company will be viewed against 'comparable companies' is a key and essential step in an IPO," says James Drake, Ansarada CFO.
"Sometimes you don't get the time to explain your uniqueness! Understanding this can help with simplifying the story and also the KPIs that best reflect your business but also compare favorably to comparable companies. The more time spent on this early on can really help how you craft the prospectus story and how you educate investors and research analysts on your business and what is important going forward," says Drake.
"IPOs are not just purely financial events. They are major reputational events as well," says Justin Smith, Ansarada CMO. "Every part of every company's valuation is tied to reputation, driven by consistent brand narrative which means communication is central to its P&L."
The IPO market is becoming more and more competitive
Preparing a high-end prospectus takes time - and it's just one small part of IPO preparation.
What we've learned from running tens of thousands of deals, including IPOs, on the Ansarada Platform is that most clients wish they had started pulling all their information together much, much earlier.
Download the
IPO checklist
for a proven framework for IPO readiness to follow and get started as early as possible.
Get IPO ready sooner
Free up time to create the ultimate brand story for your business.