The traditional IPO roadshow goes virtual
Are traditional IPO processes finally entering the digital age? We break down the pros and cons of the virtual roadshow in this article.
By AnsaradaThu Mar 25 2021IPO, Industry news and trends, Innovation, CEO-CFO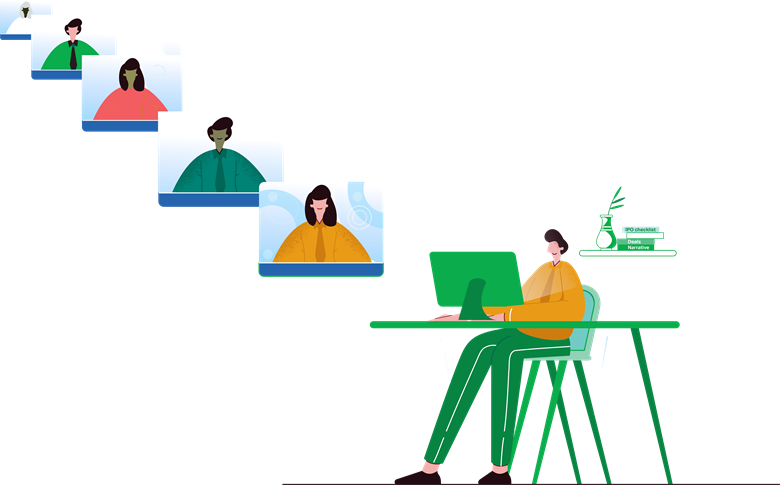 In a year that will go down in history, travel bans and border restrictions kept airlines grounded and crushed our hopes of overseas holidays. But the silver lining might just prove to be even more progressive than we imagined – especially for business leaders looking to take their companies public.
While COVID may have temporarily put a halt on IPO activity, it only briefly succeeded in slowing it down – IPO activity hit record numbers in 2020 and
is surging in the beginning of 2021
, with much more anticipated to come.
The traditional IPO roadshow is a gruelling process that requires intensive travel in a short time frame, as companies meet with as many equity investors as they can to build demand. Bringing these processes online has numerous financial and logistical benefits, including helping companies go to market much faster than the traditional route – but there are some things to be wary of as well.
The pros: Save significant time and cost
Hosting virtual roadshows eliminates travel costs (and the resulting environmental impact) and can save up to several months in some instances. According to the
Financial Times
, companies spend on average between $50,000 to $100,000 on an IPO roadshow. One chief executive was quoted saying that '100 per cent of the people he had one-on-one video meetings with became investors, and the company saved 1,720 hours of travel and 8,199 tons of CO2 in the process.'
The pros: Go to market quicker
Using videoconferencing, companies are able to reach a much wider net of global investors in a fraction of the time. A faster roadshow reduces the impact of a volatile market and builds momentum in the deal, which can lead to a higher valuation.
The cons: Struggle to make an impression
It can be much harder to 'read the room' when there's no real face-to-face time – especially if it's the first meeting. Building that relationship with investors can be more challenging to do online.
The cons: The usual technical hurdles
Anyone who has been on a Zoom call knows that they come with their fair share of complications and interruptions, with 'can you guys hear me?' and 'John, you're on mute' being commonplace. Especially if your audience isn't the most tech-savvy, these can potentially detract from the business at hand.
The emergence of a hybrid IPO
The huge IPO success stories that have resulted from virtual roadshows are a tribute to the positives outweighing the negatives. AirBnB and ZoomInfo are just two of the mega-deals that found success taking their roadshows online.
While it's too early to say, it's likely that we'll land at a happy medium with a hybrid of the two forms, mixing in-person relationship building with the ease of reaching a wider investor audience virtually.
Be prepared for your best outcome
In this climate, nothing is guaranteed. Despite the adaptations to key IPO processes, companies going public may continue to struggle with accurate forecasting, the risk of overvaluation, and of course, further impacts of the pandemic and related restrictions that have yet to play out in full.
But the earlier you can be prepared – and ready for any scenario - the stronger your listing will be. It's about getting better information about your business, earlier, so when it's time to engage in that process, the company is already in great shape and ready to hit the ground running.
Use Ansarada's
IPO checklist
to understand exactly what the business needs to look like to achieve your IPO, then work backwards. Identify all the gaps between where you are now and where you need to be. Give yourself time to plug those gaps and solve those issues over several months rather than one.