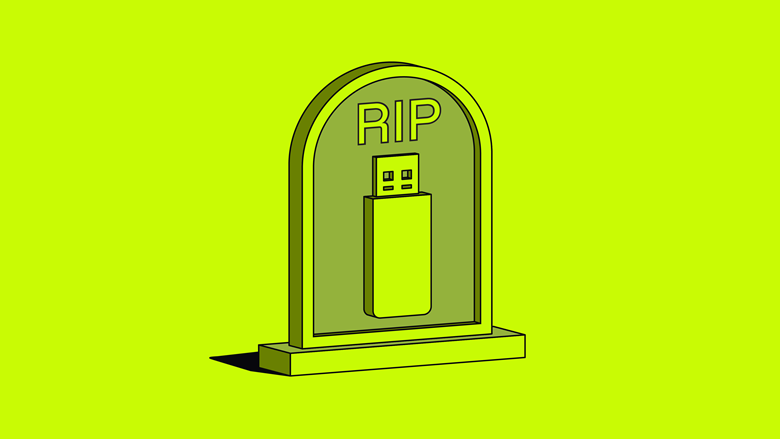 We're on a mission to kill USBs. While a piece of plastic might seem like a harmless adversary, the reality is that USBs are risky, environmentally unfriendly, and prone to corruption and human error.
We fully understand that once your deal is completed, you'll need a detailed archive to get signoff and meet important proof of disclosure requirements. It's what makes the end of the financial year one of the busiest seasons for deal archiving – and consequently, for USB demand.
While USB sticks have long been the standard to housing archives post-deal, they are problematic for several reasons. With all the technological advances that have been made in the last decade, it's crazy that legacy deal processes still involve the archiving of a data room onto a USB stick or DVD. And here's why.
The problem with USBs
Data on drives corrupts and degrades over time. This is a serious liability that isn't usually considered. What happens if your USB stick is corrupted? Is there any way for you to access the data again?
They are easy to misplace. While many archive USBs may end up in a drawer, never to be looked at again, there are equal opportunities for them to get lost – alongside all the sensitive information they house. In June 2022, after a post-work drinking session, a Japanese worker got more than the hangover he bargained for when he lost a USB stick containing the personal details of nearly half a million people.
They can be misused. USB sticks are one of the most popular means of attack by hackers & cyber criminals – which is why you should never stick a USB stick of unknown origin into your computer.
​They can dilute your document control. Often at the end of a project, the CEO or CFO will get the USB and save it on their desktop. In the following months, internal team members will ask for various documents, which will likely be shared with them via email. Over time, the centralized nature of the USB will be diluted, with many internal members having sensitive information saved in their device - sometimes even their personal device. If they leave the company, this sensitive information goes with them.
They are a burden on the planet. Most USBs are used once and forgotten about. Which means they end up in landfills. Both useless and pollutive.
They are only good for a point-in-time representation. People hold onto USBs with the intent to protect the privacy of their data, but the information sits there becoming irrelevant very quickly. Which leads to another major issue…

USBs represent wasted effort
After going through a deal, your business is in optimal shape. It's been through an intense risk and opportunity assessment, with gaps and issues resolved in order to present the business in its best light to third parties.
It's at the point of deal closure that you'll have the most comprehensive understanding of your business and its position in the market, enabling you to hone your business strategy and make the most of opportunities that come your way.
What good is this information if it's not being kept up-to-date, accessible, and reusable for your next project?
While you can always archive your data room and stick the USB stick in a drawer for safe keeping, there's a much better way to maintain and leverage all the important documentation you've worked hard on during the deal.
Introducing Ansarada Always™
With
Ansarada Always™
, you can securely maintain your information from your Data Room into an Always™ plan. Past work stays housed and synced in the platform, so you can keep archive data live, tracked, visible and up to date, ready to put to work again on your next opportunity. Flexible Always™ plans enable you to keep this information optimized and ready for use.
Store your information in a single, secure repository, and manage it using tools like
Workflow
and
secure file sharing
. Be confident that your data is benefiting from the highest level of security, with end-to-end encryption in the Cloud – without compromising on access and function. Use our in-built secure file sharing to continue sharing documents with relevant internal and external parties – without paying the price of a Data Room. And crucially, without relying on vulnerable third-party providers or file transferring systems that could be subject to data breaches.
There is always a next event, so if you're about to archive a data room, ask yourself if you can benefit from having this information optimized and ready on hand, and not in a drawer somewhere.
Reap the benefits of Always™
Security & protection: While other competitors will delete your information after 90 days, Ansarada will maintain and protect your information in the Cloud, giving you peace of mind and uninterrupted access to your files. We'll never delete your data, unless you ask us to. If your USB corrupts and you get into a lawsuit, your data is backed up for you & stored securely in the cloud.
Efficiency & scale: With a single location to organize and manage your company's information across its lifecycle, you're able to eliminate duplicate work, leverage past wins and put information to work when it's time for the next capital raise, audit or other. All your process templates, team workflows, documents, information, and reports are there ready to be used and/or moved to a new deal in seconds.
Be ready to act fast: With Always™, you're always ready to start a new project - and never from scratch. Just drag and drop your information into a new Data Room and you're ready to go.
Secure storage and file sharing: Once you've transferred seamlessly over to an Always plan, you can continue using the same space as storage for all your post-deal needs, which includes access to the same advanced tools, like Workflow project management and secure file sharing. Maintain control over your data at every step.
Low-cost plans: One of the best parts about Ansarada Always™ is the low cost. Reap the benefits of Ansarada's advanced deal platform at a lower price point, and seamlessly switch to a full Data Room plan when you need to power up for the next transaction or project. Book a demo to learn more
(Almost) Always™ say no to USBs
We fully understand that some regions have specific requirements to capture their deal documentation in USB format, and we'll continue to support those requirements. But if that USB corrupts, you can rest easy knowing where you can securely access a copy. As you're wrapping up your deals for the financial year, make sure you're getting the most out of your information. Chat to us about switching over to an Ansarada Always™ plan today.
Book a demo to learn more