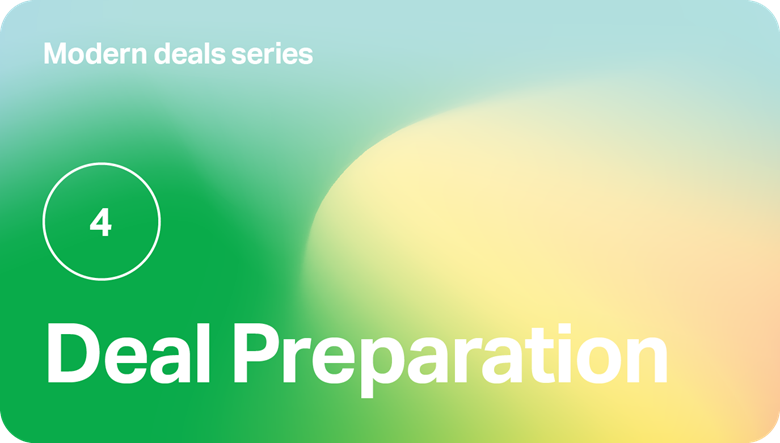 Historically, preparing for a deal has almost exclusively been done within a virtual data room when the deal itself is active. This presents the critical risk of not knowing what gaps or issues might be uncovered by a third party until the deal is already in full swing.
Today,
modern deal solutions
give advisors the ability to get their clients prepared well in advance –
at no cost until the deal goes live
.
Early, structured, and thorough preparation is the key to a smooth due diligence process and a successful transaction.
Preparing for a deal: The old way
Preparing for a deal within a live data room is problematic for a number of reasons.
Firstly, you have no idea what you're going to uncover as you dive into your clients' information. It's vital that critical risks are surfaced and addressed before these details are privy to a third party.
Secondly, there is a lot of information and documentation involved. Efficiency can be impacted, extending timelines and killing deal momentum.
Gathering documentation can take hours of back and forth, including lengthy explanations and verification. Collecting and maintaining it from various sources – software, systems, emails – drains resources and increases the potential for human error.
Uploading files and folders directly into legacy data rooms is manual, time-consuming, and puts unnecessary pressure on
junior
and senior staff alike as it takes them away from executing on deal strategy and sourcing new clients. Companies going through these transactions for the first time will be overwhelmed by the amount of work involved.
"They will be absolutely shocked by the level of due diligence they have to do, and they won't be able to… In the meantime, they are trying to manage the business at the same time," said Andrew Neilson, Founder of
Elevate Legal
. "It results in an extremely stressful period, and it's very costly because they end up paying the lawyers or the accountants or the external advisors to do the diligence to solve the problem that really they should have been solving 6 months ago."
Preparing for a deal: The modern way
The next generation of modern dealmakers is integrating all the
disparate systems
they use into a single platform for clear accountability and visibility of progress well before execution time.
Now you can prepare in a way that reduces the risk of security incidents in the preparation stage, using customizable tools like Deal Workflow™ to boost efficiency and lower the chances of deal failure or low value outcomes.
Deal Workflow™ is a project management tool allowing advisors and their clients to increase efficiency of preparation efforts. Digitized checklists deliver visibility over the entire process – including task assignment and completion in a single place, tracked in real time. The technology is designed to reduce frustration and eliminate the risk of the company neglecting core business activities during the intensive prep phase, and beyond.
"If you see what nowadays is possible, for example, in the VDR environment; in the past it was only used when the deal was actually live in the market. Now the whole system can accommodate in the whole preparation phase and in getting all your information aligned, way before you start," said Frederik van der Schoot, Managing Partner at
Oaklins, Amsterdam
.
"It helps you collect the right information at the right level and that helps you to mitigate risk out of a deal. Mitigating risk out of the deal really helps to get the deal that you want at the end of the day. It's the tools that make life easier and finally make outcomes better."
Modern dealmakers can save significant time and cost by cutting their time spent on deal preparation in half, allowing them to free up resources for more high value, strategic work. Crucially, they can get a clear picture of the real-time state of play, prior to actually running the transaction.
No risk, all reward: Start preparing for free on Ansarada Deals™
Ansarada Deals™
is a total transaction management solution amplifying how dealmakers and business leaders achieve outcomes, across each stage of the deal lifecycle. Start preparing for your deal today for free.
Advisors can now get a quote and a free data room
, with no usage fees until your deal goes live by adding an external guest user.
Stay tuned for the next part of our Modern Deals Series: Due Diligence with Ansarada Deals™.