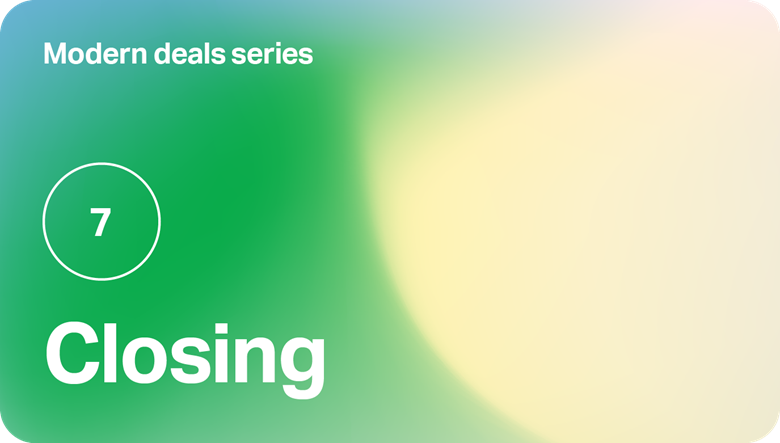 When it comes to sealing the deal, valuation might be the first thing on everyone's mind, but timing and confidence are equally critical factors.
On the sell-side, if the contract takes too long to get signed then momentum starts to wane, fatigue sets in, and valuation can be negatively impacted. The more time it takes, the more roadblocks are likely to appear.
For the buy-side, speed to close can mean the difference between winning or losing the deal – especially in a
booming M&A market
where competition among bidders can be fierce.
But speed alone is not enough. That level of efficiency needs to go hand-in-hand with the certainty that every box has been ticked and the confidence that no surprises will pop up to derail the transaction. So
can
modern dealmakers have their cake and eat it too?
Closing the deal: The legacy way
Ensuring that
due diligence
has been conducted thoroughly enough to satisfy both sides in the
negotiation phase
requires a systematic and transparent approach.
Managing Q&A alone can occupy more than 60% of the time spent on a transaction. Buyers and funders can spend more than 40% of their time chasing requests and documents. Minutes, hours, and days add up far too quickly when it really counts.
Using disparate legacy systems simply doesn't facilitate the level of efficiency required to close swiftly. Today, dealmakers can take back time while taking control in a single, centralized Deals space.

Closing the deal: The modern way
In
Ansarada Deals
™
, there are numerous ways of automating processes to get deals over the line faster. It starts with the digitization of project management and workflows.
Deal project management tools like Deal Workflow™ help monitor progress across multiple projects, so modern dealmakers can identify bottlenecks and reduce unexpected issues and delays. Get visibility over real-time progress, including task assignment and completion in a single place, tracked in real time. Accelerate outcomes by reducing risk, eliminating duplicate work and information silos, and driving accountability of teams and individuals.
A
purpose-built Q&A facility
allows the approval and answering of questions directly through the system via email. The assigned participants receive an email notification when a new question or answer has been allocated; they can then answer or approve the question from their own inbox, without logging into the deal room - a game-changer for senior dealmakers, and a huge step toward reducing risk of accidental disclosure. Bulk Q&A actions streamline and automate the process further by enabling the right people to answer the right questions.
Speed up the time to close with the AI-powered Bidder Engagement Score, which gives you data driven insights that tell you how engaged your bidders are with 97% accuracy by day 7 of a deal. It enables you to prioritize your most engaged bidders, so you can focus your time and energy where it counts - and avoid wasting time elsewhere - particularly during critical
negotiation stages
.
Standardize to close more deals
When deals can be closed faster, you can close more of them in a year.
Standardizing end-to-end deal processes means they can be duplicated and reused so that future outcomes are reached even faster.
"Ansarada has allowed us to streamline and standardize those painful, repetitive elements of the deal process – that's how we are able to build our pipeline and close more deals," said Johan Holtzhausen, Managing Director of PSG Capital. "Preparing early, reducing risk, driving efficiencies – successful deals require all of these elements, and that's why technology like Ansarada is a game-changer."
No risk, all reward: Close the deal fast with Ansarada Deals™
Ansarada Deals™ is a total transaction management solution amplifying how dealmakers and business leaders achieve outcomes, across each stage of the deal lifecycle. Advisors can now
get a quote and a free data room
, with no usage fees until the deal goes live by adding an external guest user.
Stay tuned for the last part of our Modern Deals Series: Post Merger Integration (PMI) with Ansarada Deals™.