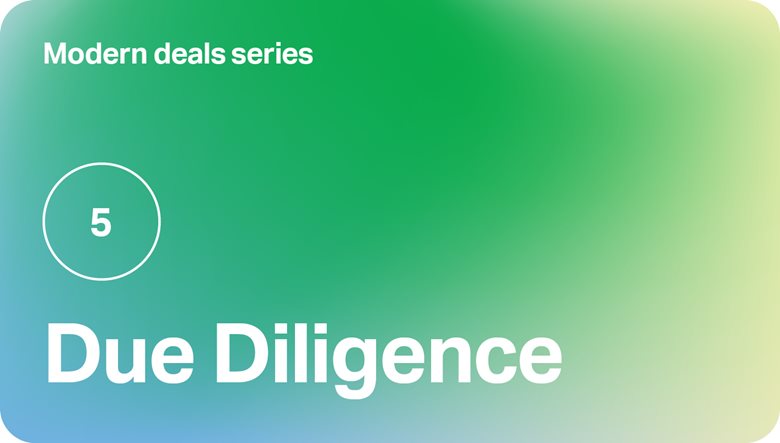 When it comes to due diligence,
early preparation
is critical to surfacing gaps and structuring documentation clearly. At this stage, you're ready to get into the Data Room and open this information up to serious bidders.
Due diligence is one of the most intensive risk and opportunity assessments a business can go through. The more that this manual, time-consuming process can be streamlined, the better for all involved. And critically, linking the due diligence process to the preparation activities that come before it - and the integration activities that come after - is the best way to leverage this information and keep it optimized for use. If you've done the hard work once, now you can maintain this state of readiness and optimal information governance at all times.
With the right purpose-built technologies, a virtual data room can become a powerful engine for deal execution. And as part of an end-to-end Deals platform, it is unstoppable.
Conducting due diligence: The old way
Just a few decades ago, physical data rooms were used for the due diligence process – physical 'rooms' requiring teams to manually go through hundreds to thousands of documents in filing cabinets while 'locked in' the secure space.
The early pioneers created clunky basic virtual data room software that required hours of onboarding to learn how to use it. Ansarada reinvented the data room for a simple, seamless experience that advisors love.
As deals became larger, more complex and crossed borders, new tools were required to match the data and security requirements. New innovations were needed to help companies, advisors and investors navigate the risks inherent in these high-stakes transactions and ensure they were getting visibility over the entire deal lifecycle. It was also evident that inefficiencies resulting from conducting due diligence processes manually could blow out timelines and negatively impact the deal.
It became clear that surfacing any potential showstoppers at the due diligence phase was unnecessary and dangerous, and that these issues could be identified much earlier.
Conducting due diligence: The modern way
Today's modern virtual data room is just one facet of a fully centralised deals platform, which connects due diligence activities to deal preparation on one side and post-deal integration on the other. It's a complete ecosystem designed for due diligence to move at speed, in which you can plug and play different systems and software to facilitate information gathering and powerful AI contract review.
Ansarada Deals™
integrates with AI platforms including Luminance, Kira and Linksquares to allow you to rapidly find the information you need. Our own world-first AI tools for transactions include
Smart Sort
to organize your data room automatically, and the
AI Bidder Engagement Score
to predict the likely winning bidder by 97% by day 7 of the deal.
The Deal Workflow tool helps you project manage due diligence with digitized checklists, so you have complete oversight over progress and gaps to fill.
Get peace of mind during the typically stressful due diligence process with end-to-end encryption and security that covers every click you make. We stay away from integrations with unsecured software like Zoom because it simply isn't safe enough.
With the ability to apply AI automation & predictive analytics, collaborative workflow checklists and granular security controls, modern due diligence can be prioritized and performed fast, without the manual admin that's become associated with it. The structuring and ordering of documentation can be done well in advance of opening the Data Room so that due diligence is seamless and streamlined, and there are no unwelcome surprises.
And it keeps getting better
We're passionate about the evolution of due diligence, which is why we're constantly improving it.
Even before the advent of Deals, Ansarada's data room was renowned for its ease of use, bringing simplicity to even the most complex transactions. With powerful collaboration tools, unlimited users, and 24/7 support, it's been the data room of choice since 2005.
The next evolution of due diligence,
Ansarada Deals™
connects our AI-powered Data Room to workflow project management, in-built Q&A collaboration, and post-deal integration frameworks for total transaction management across the full deal lifecycle. It allows you to standardize and centralize all your due diligence information so you can get full visibility and confidence, maximizing value and minimizing risk. It's free with the Data Room.
Combine this with industry-leading AI deal tools, military-grade security, redaction, bulk actions and integrations, and you've got the recipe for a strong and successful deal strategy from end to end.

No risk, all reward: Start preparing for due diligence on Ansarada Deals™
Ansarada Deals™ is a total transaction management solution amplifying how dealmakers and business leaders achieve outcomes, across each stage of the deal lifecycle. Advisors can now
get a quote and a free data room
, with no usage fees until your deal goes live by adding an external guest user.
Stay tuned for the next part of our Modern Deals Series: Negotiation with Ansarada Deals™.