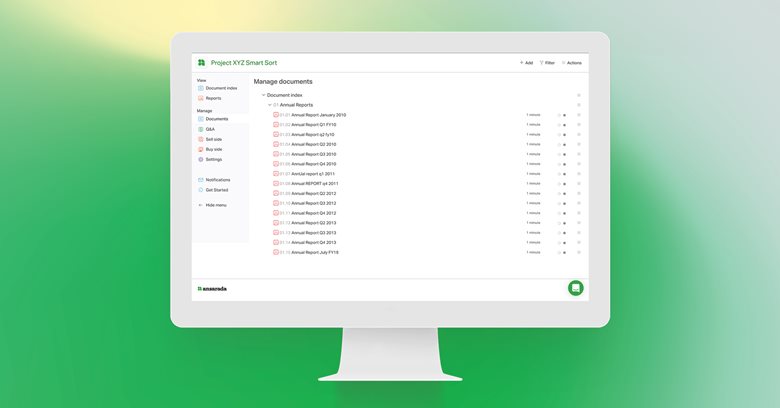 What's your most scarce resource during a transaction? Time.
Get straight to the good stuff with self-sorting documents. The AI-powered Smart Sort feature allows you to organize your data room in minutes, not hours or days.
Forget the days of dragging and dropping files where you need them to be. When triggered, Smart Sort organizes documents as they are being uploaded and sorts them based on pre-specified patterns.
Create order out of chaos
By default, documents are sorted alphanumerically when they are bulk uploaded into the data room. However, through running tens of thousands of deals, we know that different situations require your information to be ordered in other ways, including by date or financial quarter.
Providing some basic conditions are met, Smart Sort can organize your files for you based on the below patterns:
Q2-2017, Q2/2017, Q2_2017 or Q2 2017
Q2-FY17, Q2/FY17, Q2_FY17 or Q2 FY17
April-2017, April/2017, April_2017 or April 2017
Any files that don't match will revert back to the alphanumerical default. This makes it easy to navigate your docs and keep your deal room a neat and orderly space.
Of course, you can still manually sort your documents as you like as well. Put priority documents at the top to address them first, for example if your Legal team needs to prioritize documents for disclosure reasons.
Let AiDA take care of the admin
Smart Sort and other AI deal tools within the platform are powered by the Ansarada Intelligent Deal Assistant (AiDA), which keeps clients, managing directors and analysts in complete control.
Get a demo of our AI tools in action and see how you can eliminate manual tasks and low value work like generating reports, finding answers and organizing files – for good.