From Analyst to Chief Monkey: The story of Patrick Curtis
Talking shop with Patrick Curtis, Founder and Chief Monkey at Wall Street Oasis
By AnsaradaThu Nov 04 2021Advisors, Industry news and trends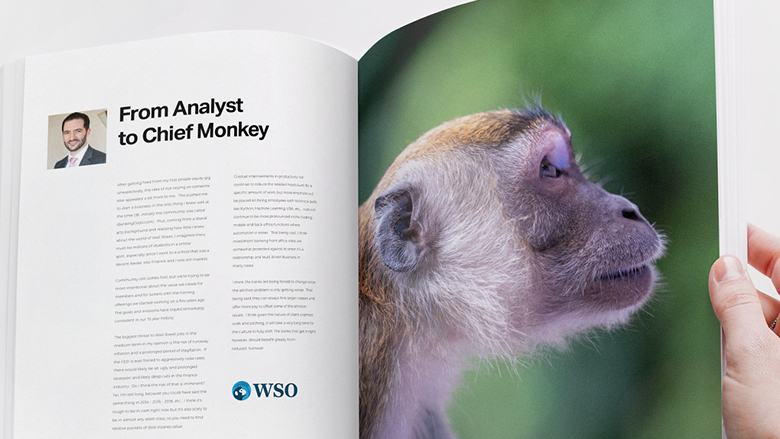 Tyler: Can you give us your elevator pitch, from college to Chief Monkey?
Economics major at Williams College, straight to investment banking as an analyst for 2yrs at Rothschild in New York from 2002-2004
Private equity for 4 years, primarily at Tailwind Capital Partners in New York 2005-2008
Wall Street Oasis (WSO) founded 2006
Wharton MBA - 2008-2010
Running WSO full time 2010 - present
Tyler: Why did you originally start Wall Street Oasis?

Patrick: After getting fired from my first private equity gig unexpectedly, the idea of not relying on someone else appealed a lot more to me. This pushed me to start a business in the only thing I knew well at the time, investment banking (initially the community was called iBankingOasis.com). Plus, coming from a liberal arts background and realizing how little I knew about the world of Wall Street, I imagined there must be millions of students in a similar spot…especially since I went to a school that was a decent feeder into finance and I was still clueless.

Tyler: How have your goals for WSO changed?

Patrick: Community still comes first, but we're trying to be more intentional about the value we create for members and for lurkers with the training offerings we started working on a few years ago. The goals and missions have stayed remarkably consistent in our 15 year history:

The 3 Missions:
To become the most entertaining and useful finance community in the world
To bring transparency to notoriously opaque industries
To help every student and professional around the world, regardless of their background, develop superior career skills and access the same opportunities as those with the most privilege
Tyler: We hear tons of stories about the terrible stuff happening to bankers, from long hours, to awful bosses. Wall Street Oasis is unique in that people can share very real stories from the trenches. Is there a particular story that stands out that makes you say, "I am so happy I'm not in banking anymore."

Patrick: Yes, there are many of these:
Tyler: WSO has 100's of thousands of users who have made it in investment banking, and a lot who haven't been able to hack it. Are there any traits that set people apart?

Patrick: Yes, there are several traits that make the likelihood of success much higher:
Committed/diligent to breaking in and willing to work long hours on the job search
Not afraid to network aggressively and becomes a great conversationalist - in other words, doesn't resume drop to 100 places to feel busy
Studies their behavioral fit questions as much (or more) than their technicals (table-stakes)
Starts building their resume early with internships like this one
Tyler: What sense do you get that bankers are feeling about vaccines? Are they happy about the mandates or pissed off?

Patrick: Ooooh, touchy topic. I think the vast majority of bankers got vaccinated and don't care. I'm sure there are a vocal minority that do care and don't feel like the (low) risks associated with Covid (for them since they are young) justify a mandate.

Tyler: What's the biggest threat to Wall Street jobs right now? Is it tech, private equity, doing your own thing, something else?

Patrick: The biggest threat to Wall Street jobs in the medium term in my opinion is the risk of runaway inflation and a prolonged period of stagflation. If the FED is ever forced to aggressively raise rates, there would likely be an ugly and prolonged recession and likely deep cuts in the finance industry. Do I think the risk of that is imminent? No, I'm still long, because you could have said the same thing in 2014 - 2016 - 2018, etc… I think it's tough to be in cash right now but it's also scary to be in almost any asset class, so you need to find relative pockets of (less insane) value.

Tyler: What is your number to leave WSO and go back to banking?

Patrick: This depends…at what level? For 1 year? Probably $5 million. For 10 years? $50 million. I have three young kids so I don't value each incremental dollar much at this point as much as I do being around for them. For private equity it would be much less as I think it's a lot of fun to analyze and invest in businesses.

Tyler: Follow up on that: what bank would it be?

Patrick: I'd probably go back to my roots…a middle market firm or elite boutique with a great work-life balance. Maybe a Harriss Williams type shop.

Tyler: You are arguably the person with your ear closest to the Street. What advice do you have for someone trying to break into banking?

Patrick: Start building your network early.

Tyler: How do you think advancements in technology and automation will impact banking?

Patrick: Gradual improvements in productivity will continue to reduce the needed headcount for a specific amount of work, but more emphasis will be placed on hiring employees with technical skills like Python, Machine Learning, VBA, etc… cuts will continue to be more pronounced in the trading, middle and back office functions where automation is easier. That being said, I think investment banking front office roles are somewhat protected against AI since it's a relationship and trust driven business in many cases.

Tyler: What are your predictions for analysts in the future? Will banks continue to grind and work them to the bone? Will that culture ultimately end?

Patrick: I think the banks are being forced to change since the attrition problem is only getting worse. That being said, they can always hire larger classes and offer more pay to offset some of the attrition issues. I think given the nature of client oriented work and pitching, it will take a very long time for the culture to fully shift. The banks that get it right, however, should benefit greatly from reduced turnover.

END.

At Ansarada, we're big fans of Investment Bankers. Our mission is to make your life easier by building technology to reduce risk, boost efficiency and improve decision making so you can rest easy.

Since 2005, modern dealmakers have trusted Ansarada's Virtual Data Room on over 24,000 transactions and $1 trillion worth of deals, including M&A, divestments, capital raising, IPOs, and restructures.
With Ansarada's new online quoting process, it takes 3 clicks and approximately 15 seconds to magically open your data room.