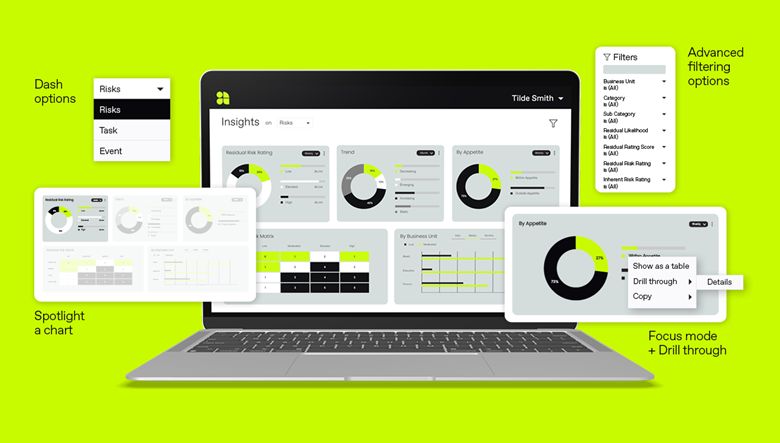 GRC professionals can spend up to 40 hours a week creating reports and custom-building their own charts, often from raw data in a spreadsheet. We know this because you have told us – over 50% of Ansarada TriLine GRC customers said that reporting was their biggest pain point.
For reporting to be accurate, real-time, and reflect enhanced data, you need a solution that is less time-consuming, less manual, and less prone to human error.
We've partnered with Microsoft to embed PowerBI into the Ansarada TriLine GRC solution to completely change the game when it comes to your reporting requirements.
Real-time reports for instant info
Now within your Ansarada TriLine GRC instance, embedded PowerBI Insights can significantly reduce the time and effort you need to prepare reports.
At zero additional cost, you can deliver enhanced GRC storytelling to all key stakeholders, including operational teams, business departments, executive management, the Board and more.
Empower your organization to make data-driven decisions based on real-time information, while reducing the risk of guesswork and errors. Save hours that you spend on data extraction and manipulation and use simple dashboards instead.
Right out of the box
PowerBI Insights in Ansarada TriLine GRC allow you to track and monitor your organization's GRC performance using the out-of-the-box dashboards. The first release has three different dashboards: Risks, Events, and Current Tasks.
The charts you can access in your Ansarada TriLine GRC instance have been validated by real customers across industries, highlighted as the most critical areas to get visibility.
Use advanced filtering options and drill-through capabilities to deep-dive into a particular area and get a full understanding of your current state. Export functionality allows you to easily export and share these reports with internal and external stakeholders.
Stay protected with security controls that allow you to grant access only to the people who should have it. Please note the new 'View Insights' role gives the user full access to all three dashboards. Therefore, please be cautious when giving non-admins access to this role.
We've done the hard work for you, so you can create real-time reports and get the information you need in an instant.
Getting started & tips
To access Insights, a position must be in the 'Administrator' and/ or 'View Insights' security group.
Further exploration of related records and tasks: To find related records and tasks, right-click a chart and select 'Drill through'.
Drawing attention to a chart: First, hover over a chart, select the ellipses (dots) icon, and select 'Spotlight'. You can view a chart full screen using the 'Focus Mode'.
Focus on selective information: Remove unwanted information using the right-hand advanced filters. For the Events dashboard, there is an additional filter for the date on the top of the dashboard.
What's next?
This is just the beginning. In the next release, we will introduce more charts, new dashboards, and the ability to further customize your reports. We're working toward an embedded PowerBI experience that delivers enhanced customization, the creation of report templates, automated report scheduling and industry benchmarking.
At Ansarada, we believe in customer-centric design, which is why we want to establish a feedback loop to capture your input and improve future versions of Insights.
Get in touch with your feedback here
or
contact our Support Team
for more information.
Centralize & streamline GRC with a single solution
Book a demo of Ansarada TriLine GRC today and put the three lines of defence to work on your organization's governance, risk and compliance needs.
Book a demo