Tender Evaluation Tool launches: Secure lifecycle tender management from EOI to contract award
Introducing the final step in Ansarada's fully-auditable tender management platform
By AnsaradaWed Sep 30 2020Innovation, Tenders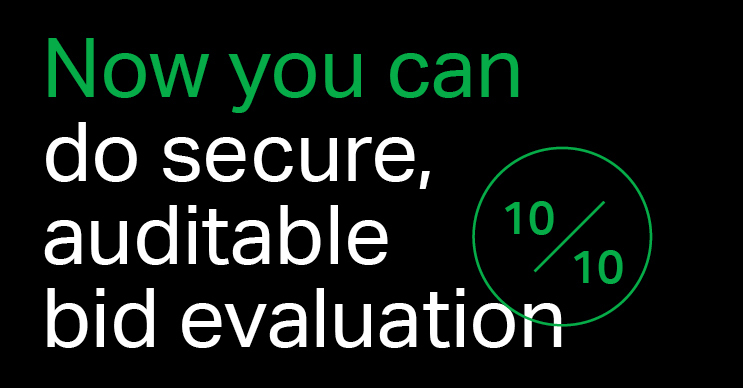 At this time last year, Ansarada was proud to launch their 'locked box'
submission tool
for tenders, a feature that allows bidders to securely submit their entire submission within the same platform used by project teams to share RFP documents,
action Q&A
, and share documents with evaluation teams.
This has allowed project teams to reduce risk and keep submissions safeguarded with the most stringent probity and audit requirements in mind.
Ansarada's latest feature goes one step further - challenging the very definition of modern probity requirements by comprehensively managing the full life cycle of the tender process in one highly secure platform.

The most advanced Tender Platform now allows for secure, auditable bid evaluation
This year, in conjunction with the soon to be launched Submission
Redaction Tool
, Ansarada proudly announces the addition of their new, fully integrated, evaluation tool which sets a new standard for high performance
full lifecycle tender management
.

Here's how it works:
Project teams define evaluation criteria and sub-criteria, and apply various forms of scoring and weighting per each criteria.
Once all submissions have been received and the deadline for submission has closed, administrators gain access to submission documents and both bidders and administrators are sent a submission receival, confirming that all documents have been received prior to the deadline.
Opening committees utilize Ansarada's Submission Redaction Tool to check bidder documents for compliance and redact inappropriate content.
Project teams assign evaluator and lead evaluator roles, who can then evaluate bidder submissions linked to the pre-defined criteria in a secure and audited environment.
Evaluators and lead evaluators are only able to see criteria assigned to them, ensuring strict separation between commercial and technical aspects of the evaluation.
Q&A and real-time notifications allow evaluators to ask questions and receive instant clarification from bidders throughout this stage of the tender.
Once initial reports are submitted, evaluators can collaborate to present a final summary of each bidder for review directly in the platform - allowing adjudication teams a swift and informed process.

Get the Ansarada advantage for Tenders
Developed in consultation with clients running multi-billion dollar tenders, the evaluation tool supports high value, complex and sensitive procurement in ways previously unseen in a tender management platform. Benefits include:

Reduce risk: Both the redaction and evaluation process allow teams to work with documents completely in-platform. No document download is required - so there's never a risk of leaked content or a lost audit trail.
Increase efficiency: Weighted scoring and permission-based roles ensure that every report is submitted fairly and absent of outside influence, while Q&A and notifications remove any chance of confusion or delay - keeping the time-sensitive evaluation process moving with momentum.
Ease of use: Evaluators are provided with an intuitive platform that allows them to securely action their role and only receive access to other's reports once all reports within that criteria have been submitted - removing the opportunity for human error at every stage.
True Compliance/Probity: Working in conjunction with Ansarada's previous advancements in tender management, Ansarada's evaluation tool provides the final link in the chain for a fully encapsulated tender process - providing the right balance of security, transparency, and speed required to make the best decision for your procurement outcome. This is the new standard.
Discover the world's most advanced Tender Lifecycle Platform
Learn more about best-practice Tender management in our free checklist or book a demo of the new Evaluation Tool today.