The thinking behind the world's most advanced deals interface
As explained by Ansarada's Chief Design Officer Jason Taylor & Chief Product Officer Matt Brown.
By ansaradaMon Jul 04 2016Mergers and acquisitions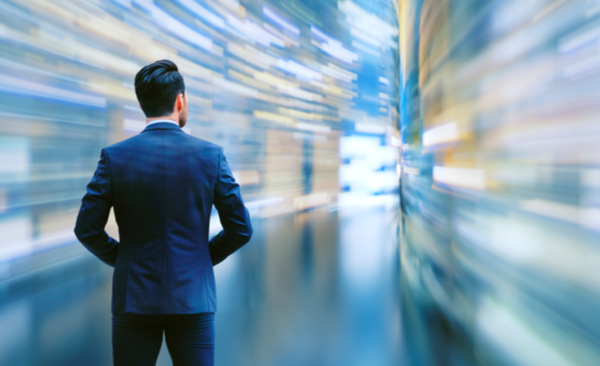 It's our job to make your life easier on every deal.
By designing the data room to minimise friction and complexity we continue to reach for an experience with zero stress, zero frustration and zero delays.

Matt Brown our Chief Product Officer, on why design and simplicity matters in deals says "business software should be as easy and delightful to use as the tools you choose for your own personal use."

We're introducing the biggest change in ansarada's history and we want to bring you on the journey.
A little history
We've designed data rooms for ten years and in that time functionality has improved ten fold to give you a stress-free experience.

As we improve the product we need to balance speed of delivery with quality of experience. It's a game of compromises and there's a lot of tension between delivery speed and quality.Technology moves fast and one day we'll need to press a reset button on our product.

Good news is we pressed the reset button a while ago. We pressed reset to design a better product that meets your needs today and into the future. There's still more to do and we intend to improve the product one hundred fold over the next ten years.

What's diffferent?
With the new experience it's a lot simpler for us to implement customer requests. You'll notice many new improvements, some immediately. The visual design has had a complete overhaul. Navigation has moved to a menu in the top left. To make navigating the product even easier we introduced Shortcuts – just press the "dot" on your keyboard to get the lot!
Everything else is exactly where you left it and we'll keep listening to your feedback to make life even easier.
Our goal is to remove complexity and create a simpler experience. Removing clutter and unnecessary elements helps you focus on what's important. We want a data room that looks good and leaves you feeling calm and in control.
What else have we improved?
We've touched every corner of the data room:
the visual design is cleaner and represents how we want to reduce complexity on a deal

there's a consistent experience in how you search and filter across the data room

you can use drag and drop to move documents and folders

you can access the most important actions from anywhere in the data room

the new Shortcuts feature lets you drive the whole deal from your keyboard

the Document Index has been redesigned to be faster and easier to find what you need

the bulk upload feature works on all major browsers with zero plugins required

you can include question content in email notifications

you can switch off Q&A notifications

the product is responsive and works on any device.
"A key factor into redesigning the interface was to make it fast, responsive and work on any device so that people can get their job done quickly and from anywhere." Matt Brown, ansarada Chief Product Officer
Simplicity
There are two drivers for simplicity at the heart of this change. Our brand proposition of sophisticated simplicity. The need to modernise the way we make product.
Sophisticated simplicity drives the design, development, and delivery of our products and services. We want to deliver exactly what you need when you need it – nothing more, nothing less. We strive for this every day. Using modern processes means we can close the loop between receiving and shipping feedback.
It's not all about our brand. Matt Brown says "For anyone running a deal, the platform that you use represents your brand, so having the best user experience is incredibly important."
Sophistication
The new experience uses sophisticated technology that is easy to update. This means a huge improvement on how fast we deliver new functionality. Both the front-end and back-end architecture are improved.
The front-end architecture uses our interface library called ACE (ansarada common element). We have codified the product interface into a reusable library. ACE is like our own version of LEGO® that enables us to build whatever we want with ease. Having ACE helps us close the gap between your feedback and the product you experience.
Ben Buchanan our Interface architect adds "ACE lets us use the same interface components across multiple systems, from prototype to production."
The back-end architecture is being rebuilt using the latest technologies and development practices. This means that we can deliver a faster experience regardless of document size or where you are in the world. We use a lean process that allows us to iterate with speed and deliver customer value fast.
When it comes to how we build product Bevan Blackie our Head of Engineering has this to say "the product has been revamped to leverage the power of Amazon's cloud computing platform to ensure what our customers experience is faster than ever."
Your deal room of the future
There's still more to do. We will continue listening to feedback so we can make your life easier. We dream about a day with zero stress, zero frustrations, and zero delays on deals.

A day in the future where the deal room delivers more than a data room of yesterday. It won't use the metaphor of a physical room filled with paper. It will be purpose built to fit your deal workflow. It will do the heavy lifting and let you focus on what's important. It will make you the hero on every deal.
Get involved
Do you want to get involved and help us create the deal room of the future? You can contact us at [email protected]
Learn more
The new interface brings with it a host of advantages when you are running deals.
Read about the Sell side benefits of using ansarada.