Connect the critical data dots with custom integrations via our API
Now you can bring your software solutions together automatically with the new Ansarada API for full visibility over your business without any gaps, double ups or time wasting.
By AnsaradaThu Jan 23 2020Innovation, Product know how, AI and cloud integrations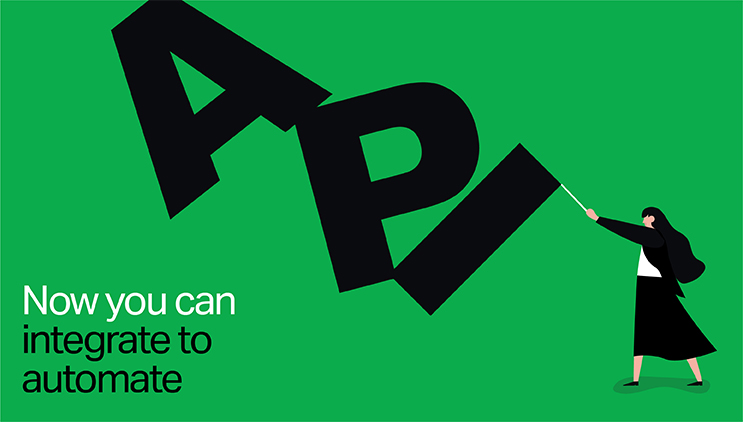 The average SME wastes thousands of hours and even more in advisory fees every year because information between systems is mismanaged and unknown. It's not surprising, when you consider that different departments each collaborate with their own set tools and programs that don't interact with each other.
For the last year, we've enabled integrations that sync the Ansarada platform with popular systems like Dropbox, Google Drive, and OneDrive, so you can bring all your critical documentation from these systems into a single location, with information pulled in automatically and synced in seconds.
Today, you can create your own bespoke integrations, and drive more efficiencies with automation and bulk actions from the systems you're already using. Here's how.
Introducing the Ansarada API
The new
developer API
(Application Program Interface) enables you to connect your own software applications so they can interact securely with the Ansarada platform.
Think of the API as the key to interactivity, enabling your data to get from one place to another so you can be fully connected. Get the confidence you're getting a clear picture of the state of play - of all your information, across all systems and software - and without the extra work.\
"By integrating your current platforms together, you can synchronize documents – both pushing them to and pulling them from Ansarada – and improve the flow of information," said Sam Keyworth, Ansarada Product Manager. "The API is the key to retrieving information from the back end and connecting it with the front end for an automated and seamless user experience."
A few examples include:
Pulling documents from where you keep them every day into your deal preparation Pathways

i.e. Depositing everything you need from Sharepoint
i.e. Pulling financials docs from Xero or Quickbooks

Pushing documents from Ansarada into other systems you have running during the deal

i.e. Sending files to legal automation software automatically

Quickly grabbing what you need from your own systems into a live Data Room

i.e. Getting those last minute contract changes from your HR software

Post-deal integrations to push your documents to where you need them to stay

i.e. Depositing files back into Sharepoint for access by the teams who need it


Get more out of your data
Among the
benefits of integrations
are the elimination of manual and duplicate work, control and visibility over your data, and reduction of costly compliance risks. Bringing all your information into one secure platform brings valuable insights to light, empowering you to predict trends and make stronger, data-driven decisions.
Whether it's during collaboration on a deal or simply keeping files up-to-date to maintain regulatory compliance, integrations ensure your team isn't wasting time on unnecessary tasks and that you have visibility over your entire organization.
We'll give you an API key, and your own IT department will be able to create integrations to complement your existing solutions and automate lengthy and costly processes.
Bring all your systems together in one place, automatically. Get in touch with us to explore what's possible with API integrations.
Get started
What will you create with custom integrations?
Request an API