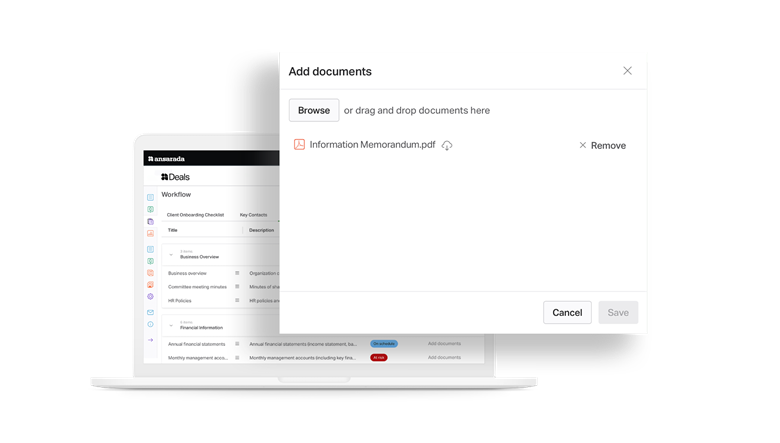 Deal Workflow
is a unique project management tool for deals, supporting all your transactional activity across every stage of the deal lifecycle with customizable checklists that you can
visualize in a Gantt chart view
.
Built directly into the Ansarada Deals platform, Workflow allows you to
import your spreadsheets
and due diligence checklists to enhance repeatability and accelerate your deal outcomes.
And it just got even better.
Manage all your deal-related tasks and documents in a single place.
Add documents to your Workflows
Now you can upload documents directly into your Workflow checklists to prepare for your deal in the simplest way possible. Keep your critical information secure, organized, and out of bidders' view in your Workflow space.
Eliminate the risks associated with external spreadsheets by keeping all your project management and document management centralized. With no limit to file sizes, you can put everything related to your deal strategy, marketing and preparation in Workflow and it won't count towards your data plan. Get organized for free, long before you start paying for your Data Room.
What can I use it for?
Here are a few that our clients are already telling us they love.
NDA & completion tracking:
Use Workflow to track your non-disclosure agreements and process letters. Store each bid party NDA, Process Letter, LOI and more in a single location, such as a Deal Register. All your documents for completion, including contracts, deeds, etc can be assembled in a Completion Checklist for quick access and instant oversight.
Company Registries:
Build out Company Registries in Workflow to keep them centralized, secure and up to date. With document attachments, now you can store all versions of your Constitution to maintain version control, and upload Share Certificates directly into your Transfer Journal.
Law firms:
Law firms are discovering great success using Workflow for novation and restructures for their clients. By uploading Novated Documents for the new entity in parallel to the old document structure, they can view old and new side by side, easily track where they are in the process, and identify any gaps early on. Simply load the document next to the relevant field in your RFI, along with any comments.
Vendor due diligence:
The beauty of your Vendor DD, NDA/Process Letter tracking, Deal DD & Disclosure records, Q&A and Completion all in one complete archive with a full record of the process? Priceless.
Get started today for free
The best part about Deal Workflow? You can try it out for free before your deal gets going. Benefit from all of our task and document management capabilities from the earliest stages of your transaction and be fully prepared to hit the ground running when it's flow time.
Try now for free