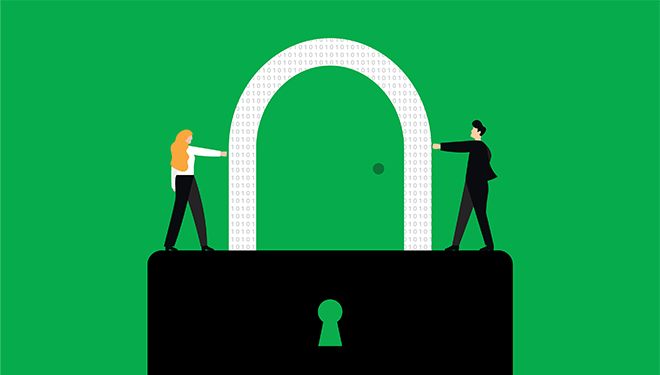 This means every document, every comment, every Q&A response – everything is safeguarded so that it remains private only to those who have been granted access.
What is encryption?
Encryption is the process by which data is scrambled (or encrypted) using an algorithm, requiring the receiving party to use a key to decrypt (and therefore, decode) the information.
Without this key, the encrypted information is unreadable, and the confidentiality of digital information is protected. These additional layers of security and privacy ensure that sensitive information is only accessible to the people and systems it is intended for.
With huge volumes of critical business information now stored in the cloud and growing concerns with data privacy, it's increasingly important to make sure your data is protected.
What do we mean by end-to-end encryption?
End-to-end encryption in the Ansarada platform means that ALL sensitive data is encrypted. This includes not only documents and files in the platform, but other data as well – including Q&A questions and responses, and threaded comments that build up as you collaborate on your documentation.
Encryption protects this data when it is:
in transit/motion
at rest
externally (from browser to us)
internally (between services within Ansarada and when stored at rest within Ansarada)
"We encrypt absolutely everything. If you try to see anything in the Ansarada environment, you won't be able to unless you have the right permissions," says Daniel Tan, DevOps team lead at Ansarada.
"We provide best-in-class encryption because our clients' documents are highly secure. With encryption everywhere, you get that extra assurance that if malicious actors were somehow to get into our environment, they still wouldn't be able to view your information."
Your best defence against data breaches
End-to-end encryption is just one of the ways we keep our platform impenetrable, protecting against both external threats and accidental internal errors.
Our advanced deal security engine, built seamlessly into your data room, feeds our AI-powered analytics tools and is wrapped up in a super simple interface. It's always learning – processing millions of calculations by the second to continuously protect you and your reputation. Learn more about
what's under the hood
.
Multi Factor Authentication
is also available on certain
plans
to safeguard against password breaching, allowing you to prove your identity before you access your Ansarada instance.
Your security is our passion
Don't risk your data with the wrong tool for the job. Download our security guide to learn all the ways we take risk out of the equation, or book a demo to see our tools in action.