How to play (and win) Ansarada's virtual M&A game
Learn how to build your virtual empire with the new and improved M&A game
By ansaradaMon Nov 25 2019Mergers and acquisitions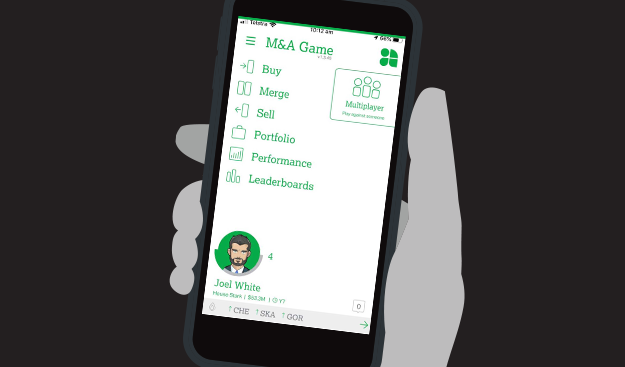 This month, we
relaunched our popular M&A game
with new features and functionality. Here's how you can build your virtual empire.
GET SET UP
After
downloading the game
, start by choosing your avatar, company name, and the industry sector in which you plan to build your corporate empire.
From the home screen, you'll see the below options. (There's also a multiplayer option for when you want to challenge your friends or colleagues.)
Buy
Merge
Sell
Portfolio
Performance
Leaderboard
Throughout the game, you'll receive urgent calls from C-suite executives with real-life business scenarios that require your action. Make critical decisions quickly and strategically, and watch the real-time impact on your portfolio.
BUY: Get started by purchasing a company
Scope out potential candidates and assess where their company stands in terms of value, revenue, profit, staff and locations. (You'll start in a single sector, but you can unlock new industry sectors by buying out your rivals.)
Once you've chosen the business, set up your deal team. Decide which investment banker, lawyer, accountant and data room to put your trust in, based on their star rating (and of course, their cost).
Assess the reports to see where the greatest potential impact lies. Is your team likely to have a better chance of success with negotiation or flattery? What is the company's turnover history? Profit history?
It's time to negotiate. Uncover the information you need by strategically negotiating, haggling, and flattering them for detail – even bullying, if you must – before ultimately making an offer. Rejected? You've got 3 times to pitch a bid that will win you the company.
MERGE: Merge two companies to realize valuable synergies
Decide which two companies within a sector to merge into one unified business entity.
Assess the financial reports for each, and cover the upfront costs for integration.
Rename your new business entity and watch its progress in your portfolio.
SELL: Exit your company to turn a profit
Choose the company to put up for sale and review its current statistics before deciding on its listing price.
Set up your sell-side team, including investment banker, lawyer, accountant and data room.
Choose which bids to reject or accept. Accept the right bid and be rewarded with a significant cash injection.
PORTFOLIO
This is where you can see the value of your growing portfolio, organized by industry. Click into an individual company to see all the available Growth Pathways, based on Ansarada's own
Pathways
. Invest funds to develop your portfolio assets until you've turned them into industry superpowers.
PERFORMANCE
This is where you'll get an overview of your performance as it pertains to net worth, capital, sectors, portfolio and M&A activity. Click into any to see reports on trends and forecasts and hone your strategy accordingly.
LEADERBOARD
The global leaderboard is where you want to be. View the top global dealmakers, those with the most 5 star deals, the fastest to amass $1billion and $1trillion, and best by country.
CODES
For a serious head start, use these unique codes to access virtual cash and one-of-a-kind purchases like a submarine or business headquarters on the moon.
Click on the top left hand corner for your options and hit '
Enter code
', then try these out.
easierM&A
redoctober
1smallstep

Want more codes?
Book a demo
of the Ansarada platform and we'll give you some more.
There's a lot more to the game than these basics, but you'll have to get started to find out.
Download the M&A game on the Apple Store
Download the M&A game via Google Play