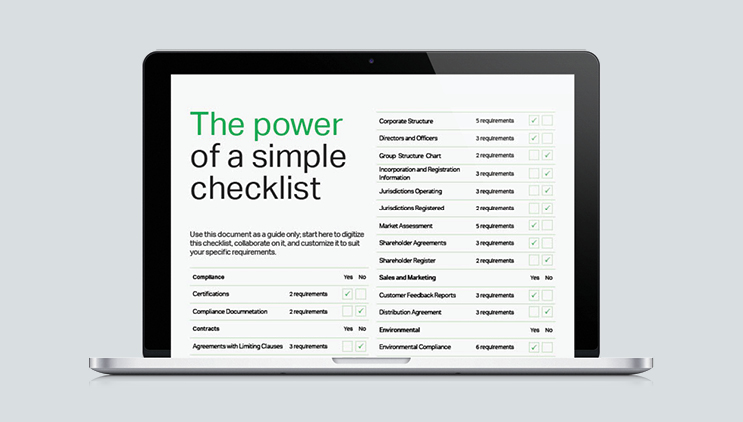 Checklists seem able to defend anyone, even the experienced, against failure in many more tasks than we realized. They provide a kind of cognitive net. They catch mental flaws inherent in all of us—flaws of memory and attention and thoroughness. And because they do, they raise wide, unexpected possibilities.
Atul Gawande, The Checklist Manifesto
Ansarada CEO Sam Riley recently put together
a great article
on the power of checklists, and what they can (and cannot) do for you. Among the inherent benefits of using checklists are organization, motivation, protection from error, progress, delegation, and strategic thinking.
In the world of transactions, including
mergers and acquisitions
, IPO and
capital raising
, as well as other critical business outcomes and workflows, following a checklist is sure to lead to higher performance at every step.
Ansarada Pathways
are digitized checklists and project management tools based on best practice from 35,000+ previous transactions and outcomes. They lay out all the necessary documentation and requirements for each, so that preparation and execution of these events is as simple as following each step through to completion.
With these digitized checklists, you have the potential for automated workflows, collaboration, task assignment and reporting tools that make following them completely frictionless. Pathways are offered on a free trial basis, so you can try them out for yourself at no obligation for 14-days.

Access our free PDF checklists
We've adapted many of our Pathways into simple checklist PDFs that you can use as a starting point for your next outcome. Access them below.
Deal Workflow Checklist
Get a comprehensive overview of all the different work streams and requirements to address in the lead up to the transaction. The Deal Workflow Checklist is the ideal starting point for any deal type.
Download the Deal Workflow Checklist.

M&A Business Exit Checklist
Use this Business Exits Checklist as a simple framework to start developing your exit plan today, ensuring your company is healthy and prepared for sale with all the right critical documentation.
Download the Business Exits Checklist.
M&A Targeted Acquisition Checklist
Use the free Targeted Acquisition Checklist as a guide to speed up the evaluation, acquisition and integration of targets ahead of the anticipated flurry of M&A activity.
Download the Targeted Acquisition Checklist.

Post-Acquisition Integration Checklist
Use our templated Post-Acquisition Integration Checklist, developed with integrations expert Henry McNeill, to ensure you are maximizing valuable synergies, efficiencies and benefits once the deal is signed.
Download the Post-Acquisition Integration Checklist.

Capital Raise Checklist
Download our Capital Raise Checklist for an overview of everything you need to run a swift and seamless investment process, whether you're raising debt, equity or both. Includes tips from expert dealmakers on maintaining momentum in the deal.
Download the Capital Raise Checklist.

Audit Checklist
The Audit Checklist will help you understand exactly what information you'll need to provide for your financial audit and allow you to prepare it efficiently.
Download the Audit Checklist.

Due Diligence Checklist
Built from 50 million data points across 35,000+ deals, the Due Diligence Checklist is a file folder structure that gives you the framework to seamless
due diligence
.
Download the Due Diligence Checklist.
Get started with your digitized checklist
By establishing a baseline for performance, checklists ensure that everyone is working to higher standards and there's greater potential for excellence. Ansarada Pathways take that one step further, digitizing your basic due diligence checklists to speed up processes, promote collaboration, and drive action.